01 JULY 07
The Beginning of a New Era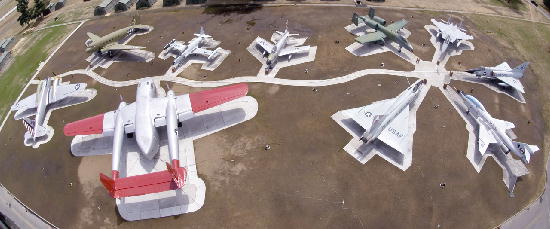 PHOTO BY Abner GuzmaN / USAF
With construction complete, the brown areas will be filled with grass in a matter of weeks. The new airpark on Heritage Hill is an addition to the C-124C Globemaster and C-141B StarLifter added to the Hill in 2005. The new park features the following aircraft from the collection of the McChord Air Museum (left to right) B-23 Dragon, (T)C-47D Skytrain, C-82A Packet, T-33A Shooting Star, F-86D Sabre, F-102A Delta Dagger, CF-101F VooDoo, F-106A Delta Dart, F-15A Eagle, and A-10A Thunderbolt II
For more than 17 years, the property adjacent to The McChord Air Museum has been home to most of the Museums aircraft collection - with a turn of a hovel and pouring of some concrete the McChord Air Museum has moved in to a new era - a new airpark on McChord's Heritage Hill.

As a part of a large expansion project on the Heritage Hill, Base officials provided a large area of this park for the Museums current collection of aircraft and enough room for future expansion (C-45, C-54, C-130). The area around this airpark is a main gathering point for the many teams and visitors to AMC's Air Mobility Expeditionary Rodeo, a worldwide competition held every two years at McChord. By visiting this airpark people from across the world will be able to see some of McChord's more historic aircraft.

In 2005, the Museums C-124 & C-141 were carefully towed off of the McChord ramps and placed on the northern end of the park overlooking the Bases runway, our site will be a short distance away. This is the first time a visitor will be able to view most of the museums collection in one area, one aircraft, the B-18, will be continued stored out of the elements in the Museums restoration hangar.

Although the aircraft have been moved from our main building, the McChord Heritage Center (Air Museum) will, for the time being, reside at our current location on McChord on the South end of the Base between the Base Exchange and Burger King.

We hope to see you soon!

For photos and information on the Museum aircraft painting Projects please check for updates on the

Painting Project Photo Page

.
The new McChord Air Museum Airpark - step by step
17 November 2006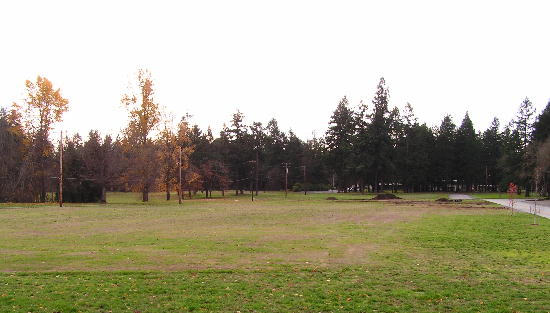 Early preparations are being accomplished at to the grounds. For many years McChord's Officers Open Mess Club once stood at this site. (facing Southwest)
16 January 2007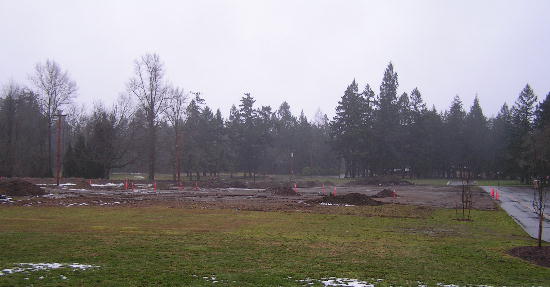 The old grass is pealed away as the leveling process begins.
(facing Southwest)
10 March 2007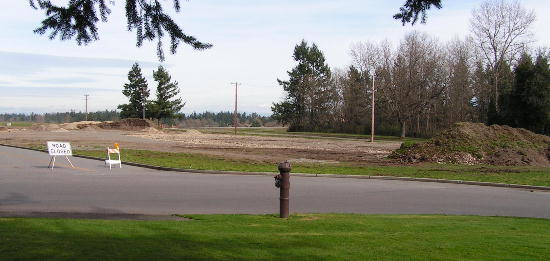 The long process of leveling continues. (facing Northeast)
14 March 2007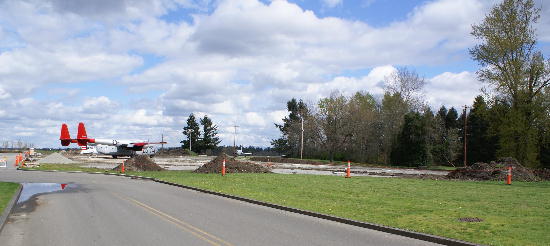 Grounds have been leveled, cement blocks for landing gear stands are in place, aircraft are being moved into place before concrete silhouettes are formed. In this picture the B-23 and C-82 are in place as the CF-101 awaits its turn. (facing Northeast)
05 June 2007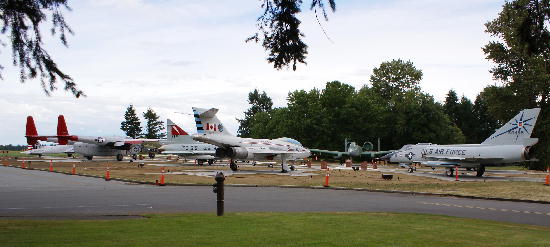 Complete ! Aircraft, walkways, lighting all in place, now we just need the grass to grow ! (facing Northeast)