_
MUSEUM COLLECTION
HISTORY
SPECIFICATIONS
AIRCRAFT ON DISPLAY
UNIT HISTORY
PHOTOS
Lockheed T-33A Shooting Star
Crew Chief: Gary Bowen

DISPLAYED ON HERITAGE HILL
HISTORY
_
Popularly known as "T-Bird" the Lockheed T-33A was developed 1948 as a two-placed version of the F-80 Shooting Star. The F-80, the United States first mass produced jet fighter and the first USAF aircraft to exceed 500 mph. The F-80 also made its mark in combat by scoring the first jet aerial victory and the first all jet fighter engagement. The jet to jet combat took place on November 8, 1950 when a F-80 assigned to the 16th FIS shot down a Russian built MiG-15 during the Korean Conflict.

The T-Bird's primary mission training was to train pilots qualified in propeller driven aircraft as they transition into Jet powered fighter. Later in the "T-Birds" career, the trainer joined the Air Defense Command (ADC) and became one of the Commands most versatile aircraft.

In initial ADC squadron assignments, T-33's were use for instrument training, certification or requalification of Pilots. As time passed, Air Defense Command T-33s were also utilized as target for Interceptor training ( by using manual and electronic devices) and as simulated aggressors for US radar sites. These missions gave Junior Officers valuable experience in air combat tactics before assignment to fighter–interceptor aircraft.

The T-33 was a familiar sight at McChord for almost 40 years lastly with the 318th FIS. Upon their retirement the 318ths nine T-33's had been flown more than 10,000 each. In a simple farewell ceremony four of the five remaining T-33's completed a group flyby over the Base in salute to the types retirement. The last T-33 (58-0616) left McChord on February 4, 1988 with the Air Forces last leaving service in March of that year.
TOP OF PAGE
SPECIFICATIONS
_
TYPE:

Proficiency Trainer – Combat Support Aircraft

POWER:

One J-33-A-23 Allison Turbojet with 5,400 lb thrust

SPEED:

543 mph

RANGE:

1,300 miles

WEIGHT:

Empty - 7,920 lbs,

Max T/O - 14,442 lbs

DIMENSIONS:

Span - 38 feet,

Length - 37 ft 9 in

HEIGHT

:

11 ft 4 in

CREW:

One or Two

McCHORD BASED UNITS: 64TH FIS, 317TH FIS, 318TH FIS, 498TH FIS
TOP OF PAGE
T-33A 58-2106
_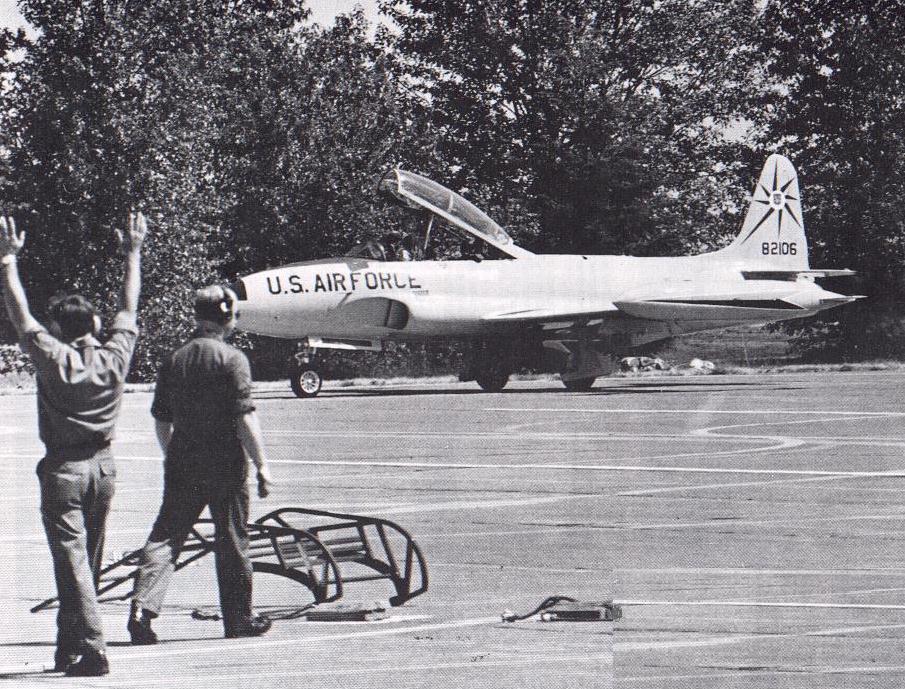 After her final flight on June 24, 1986 58-2106 carrying the aircrafts last pilot (Lt. Scott Antolak) and last Crew Chief (SRA Bill Hoffer) is pictured being guided into a parking stall on the 318th FIS ramp. Shortly there after -2106, the last T-33 built for the Air Force was officially signed over to the Museum.
TOP OF PAGE
U
NIT HISTORY
(Taken from -2106's maintenance history records, working on confirming units and dates.)
24 AUGUST

1959
Accepted by the United States Air Force
DATE UNKNOWN
To 3615th Pilot Training Wing, Craig AFB. AL
( Air Training Command )
_
DATE UNKNOWN
To 408th Fighter Group, Kingsley Field, OR
( Aerospace Defense Command )
_
DATE UNKNOWN
To 460th Fighter-Interceptor Squadron, Grand Forks AFB, ND
( Aerospace Defense Command )
_
25 JUNE 1974
To 4787th Air Base Group, Duluth IAP, MN
( Aerospace Defense Command )
DATE UNKNOWN
To 318th Fighter-Interceptor Squadron, McChord AFB, WA.
( Aerospace Defense Command )
24 JUNE 1986
Final flight, 318th Fighter-Interceptor Squadron McChord AFB, WA
ending with 10,608.1 airframe hours.
( Tactical Air Command )
24 JUNE 1986
Loaned to McChord Air Museum, McChord AFB, WA for display.
(United States Air Force Museum Program)
TOP OF PAGE
ADDITIONAL PHOTOS
TOP OF PAGE
Website provided and maintained by:
The McChord Air Museum Foundation
P.O. Box 4205
McChord AFB, WA. 98438-0205
253-982-2485
e-mail - mamfound@mcchordairmuseum.org
TOP OF PAGE

TO MUSEUM COLLECTION PAGE