_
MUSEUM COLLECTION
HISTORY
SPECIFICATIONS
AIRCRAFT ON DISPLAY
UNIT HISTORY
PHOTOS
NOrth American F-86D Sabre
Crew: Ken Roberts /
317th FIS Assoc.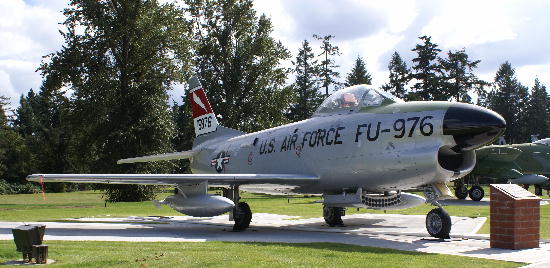 DISPLAYED ON HERITAGE HILL
HISTORY
_
In the late 1940s, the US government along with the USAF, began a massive effort to develop an effective defense of US airspace to counter a growing Soviet threat. In support of this, the USAF chose the Convair "1954 Interceptor" project as their primary aircraft for this role, and the Northrop F-89 Scorpion as an interim. After many delays in the F-89 development program, the Air Force looked at two aircraft as alternatives to the Scorpion, a modified Lockheed TF-80C which evolved into the F-94 Starfire, and highly modified all-weather interceptor version of the F-86A Sabre, the F-95A (F-86D).

As the YF-95, the Sabre Dog completed a successful first flight on December 22, 1949, later on July 24, 1950, the designation was changed to YF-86D. The Sabre Dog differed greatly from its cousin, while externally similar to the F-86A there was only 25% commonality between the two aircraft. The F-86D was also the first USAF aircraft to carry an all missile armament, and was the first all weather interceptor to be operated by one pilot, operating the radar and flight controls.

The first operational F-86D entered USAF Squadron service in March 1951, with McChord's 317th FIS with the 465th FIS's receiving their first aircraft in 1953. During the 1950's F-86D's became the most prominent Interceptor in 25th Air Division arsenal, flying from 5 bases in a total of 14 squadrons, 6 being redesignations that occurred on August 18, 1955, in a program named "Project Arrow" which to return displaced squadrons back to their WWII Wings.

On November 19, 1952 & July 16, 1953 the F-86D set new world speed records by flying to speeds of 698.505 and 715.697.

After a production run of 2,506, production ended with the delivery of the last "Dog" in September 1955. F-86D served in more than 100 USAF & ANG squadrons until June 1961.
SPECIAL FEATURE
THE HUGHES TROPHY
TOP OF PAGE
SPECIFICATIONS
_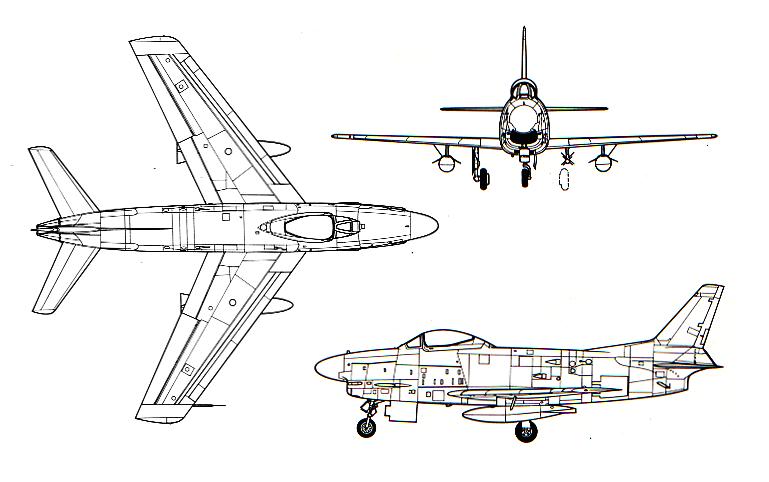 TYPE:

All-weather Interceptor

POWER:

One

GE

J47-GE-33 Turbojet with 7,650 lbs

SPEED:

679 mph

RANGE:

1.022 miles

SERVICE CEILING: 50,000 ft

WEIGHT:

13,498lbs. Empty; Max T/O 18,160 lbs.

DIMENSIONS:

Span 37 ft

1

in.,

Length 40 ft 4 in. Height 15 ft

ARMAMENT:

24 - 2.75 in Mighty Mouse folding fin rockets.

CREW:

One

PRODUCTION TOTALS: 2,506

COST: $344,000

McCHORD BASED UNITS: 317th FIS, (1953-1956), 318th FIS (1955-1957), 465th FIS (1953-1955)

- 25 AD UNITS - GEIGER AFB, WA: 440th FIS (1953-1954), 445th FIS (1953-1955), 497th FIS (1955-1958) 498th FIS (1955-1957), 520th FIS (1955); LARSON AFB, WA: 31st FIS (1953-1955), 322nd FIS (1955-1959), 323d FIS (1953-1956), 538th FIS (1955-1958); PANE FLD, WA: 83d FIS (1953-1957); PORTLAND AP, 460th FIS(1955)
TOP OF PAGE
F-86D S/N 52-3669
_
_
Early in it's career F-86D 52-3699 served in two squadrons of the 25th Air Division, Larson AFB's 323rd FIS and Geiger AFB's 497th FIS (shown in the altered picture above). After moving with the 497th to Spain –699 was one of 130 F-86D/K "Dogs" to be transferred to the Yugoslavian Air Force. The Sabre Dogs served with the YAF until the Mid 70's.
TOP OF PAGE
U
NIT HISTORY
JANUARY 1954
Completed by North American Aviation, Inglewood, CA
01 FEBRUARY 1954
Delivered to 47th Fighter-Interceptor Squadron, Niagara Falls, NY
(with deployment to Yuma AFB, AZ)
(Air Defense Command)
APRIL

1954
To Sacramento Air Materiel Area, McClellan AFB, CA
(Air Materiel Command)
JUNE 1954
To

323d Fighter-Interceptor Squadron, Larson AFB, WA
(Air Defense Command)
AUGUST 1955
To

497th Fighter-Interceptor Squadron, Geiger Fld, WA
(with deployments to Yuma AFB, and Vincent AFB, AZ)
(Air Defense Command)
APRIL 1958
To Mobile Air Materiel Area, Brookley AFB, AL
(Air Materiel Command)
MAY 1958
To 3970th Air Base Group, Torrejon AB, Spain
( Strategic Air Command )
JULY 1958
To 497th Fighter-Interceptor Squadron, Torrejon AB, Spain.
( Strategic Air Command )
MAY 1960
To 431st Fighter-Interceptor Squadron, Zaragoza AB, Spain.
( Strategic Air Command )
AUGUST 1960
To 3131st Aircraft Repair Squadron, Chateaur AB, France
(Air Material Command)
SEPTEMBER 1960
To
3130th Air Base Group,
Chateaur AB, France
(Air Material Command)
OCTOBER 1961
Dropped from inventory by transfer to the Military Assistance Program,
later acquired by the Yugoslavia Air Force
OCTOBER 1986
Returned to the United States by ocean vessel sold to a Private Collector
JULY 1994
To the McChord Air Museum Foundation for display as S/N 51-5976
TOP OF PAGE
ADDITIONAL PHOTOS
TOP OF PAGE
Website provided and maintained by:
The McChord Air Museum Foundation
P.O. Box 4205
McChord AFB, WA. 98438-0205
253-982-2485
e-mail - mamfound@mcchordairmuseum.org
TOP OF PAGE

TO MUSEUM COLLECTION PAGE