_
MUSEUM COLLECTION
HISTORY
SPECIFICATIONS
AIRCRAFT ON DISPLAY
UNIT HISTORY
PHOTOS
McDonnell-Douglas
F-15A Eagle
Crew Chief: Open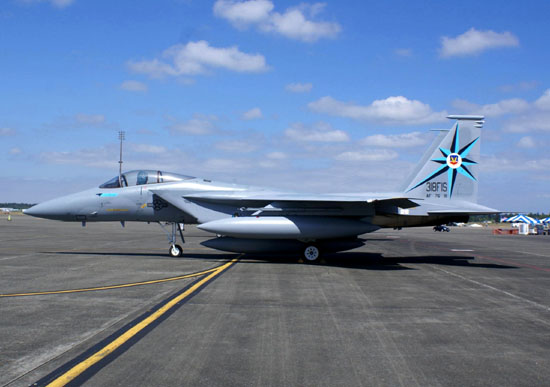 DISPLAYED ON HERITAGE HILL
HISTORY
_
The winner of the USAFs Fighter-Experiment (F-X) study, the McDonnell Douglas (now Boeing) F-15A Eagle Air Superiority Fighter was designed to gain and maintain superiority in aerial combat through a mixture of maneuverability, acceleration, range, weapons and advanced avionics.

After a successful Flight test program starting with its first flight on July 27, 1972 from Edwards AFB, CA the F-15 Eagle began replacing the McDonnell-Douglas F-4 Phantom with the delivery to the 555th Tactical Fighter Training Squadron of the 58th Tactical Training Wing at Luke AFB, AZ on November 4, 1974. The 27th Tactical Fighter Squadron of TACís 1st Tactical Fighter Wing Langley AFB, VA became the first operational user of the F-15 with the delivery of its first aircraft on January 9, 1976.

As Tactical Fighter Squadrons transitioned into the F-15C/D models the Tactical Air Command began replacing their 5 active duty F-106 Interceptor Squadrons with F-15A Fighters beginning on August 10, 1982. The 48th FIS, based at Langley AFB was the first Air Defense (TAC) Squadron receive Eagles, followed by the 318th FIS at McChord (June 10,1983) and the 5th FIS based at Minot AFB, ND (December 84). The remaining active duty F-106 squadrons were deactivated before conversion.

The 318th FIS "Green Dragons" quickly established themselves as one of the USAF's premier Fighter Squadrons. In 1984 the squadron won the right to participate at the USAF " William Tell" Weapons Meet, a competition for the Best US and Canadian Fighter Squadrons and later winning the 1984 Hughes Achievement Trophy, a annual award presented to Air Force's Top Fighter Squadron.

In the late 80's, the USAF planned add a anti-satellite (ASAT) capability to twenty F-15's from the 318th and the 48th Fighter-Interceptor Squadrons. Both squadrons had each received three or four F-15A/B airframes which had been rewired for ASAT operations. However, Congress was unwilling to permit any further testing of the system, and the ASAT program was officially terminated in 1988 after nearly ten years of development.

In late 80ís, the Tactical Air Command began to turn its Air Defense mission over to ANG. The first Squadron to effected by this move was the 5th FIS in April of 1988 transferring it's aircraft to the 101st FIS Massachusetts ANG, previously flying the F-106 Delta Dart. Next was the 318th FIS loosing it's aircraft to the 123rd FIS Oregon ANG, and the last active Continental Air Defense Squadron, the 48th FIS, lost their aircraft in October of 1991..
TOP OF PAGE
SPECIFICATIONS
_
TYPE:

All-weather Air Superiority Tactical Fighter

POWER:

Two Pratt & Whitney F100-PW Ė220 turbofan

SPEED:

Mach 2.5

or 1,650 mph

RANGE:

3,450 miles with 3 external tanks

SERVICE CEILING: 63,000 ft

WEIGHT:

27,381 lbs. Empty; Max T/O 56,000 lbs.

DIMENSIONS:

Span 42 ft. 9 3/4

in.,

Length 63 ft 9 in. Height 18 ft .5 Ĺ in.

ARMAMENT:

One 20mm M61A1 Gun with 940 rounds, four AIM-7 Sparrow air to air missiles, four AIM-9 air to air missiles, external load of up to 16,000 lbs.

CREW:

One (A/C) Two (B/D)

PRODUCTION TOTALS: (USAF) 302 (F-15A), 58 (F-15B), 408 (F-15C) 62 (F-15D)

COST: $

27.9 million

McCHORD BASED UNIT: 318th FIS (1983-1989) -

25th AD Unit - 5th FIS Minot AFB, ND (1984-1986), NWADS/ WADS Unit - 123d FIS/FS Portland IAP, OR (1989- )
TOP OF PAGE
F
-15A S/N 76-048
_
_
Although the Museums F-15A Eagle never served with McChord's 318th FIS, It did "fight" against the Squadron while assigned to the 25th Air Divisions 5th Fighter - Interceptor Squadron based at Minot AFB ND. Wearing the colors of the "Spittn Kittens" -048 is shown taxing on for take-off at McChord in this 1986 photo. After serving with the 5th FIS the aircraft was next assigned to the 101st FIS, Mass ANG, (the unit that scrambled against hijacked airliners aimed at the World Trade Center on September 11, 2001). On December 7, 1993 the F-15 was flown to McChord by former Northeast Air Defense Sector Commander Lt Col Thomas Dobson.
TOP OF PAGE
U
NIT HISTORY
1977
Completed by
The McDonnell-Douglas Military Aircraft Corporation, St. Louis, MO.
1977
To

36th Tactical Fighter Wing,

(temporarily deployed at Langley AFB, VA)
22 SEPTEMBER 1977
To 36th Tactical Fighter Wing / 525th Tactical Fighter Sq. Bitburg AB, Germany
(

US Air Forces, Europe)
1981 ?
To 33d Tactical Fighter Wing, Eglin AFB, FL
(
Tactical Air Command)
DECEMBER 1984
To 5th Fighter-Interceptor Squadron, Minot AFB, ND.
( Air Defense, Tactical Air Command )
APRIL 1988
To 101st Fighter-Interceptor Squadron, 102d Fighter-Interceptor Wing, Otis ANG Base, MA
(Air National Guard, 1st Air Force)
07 DECEMBER 1993
Loaned to McChord Air Museum, McChord AFB, WA for display.
(United States Air Force Museum Program)
TOP OF PAGE
ADDITIONAL PHOTOS
TOP OF PAGE
Website provided and maintained by:
The McChord Air Museum Foundation
P.O. Box 4205
McChord AFB, WA. 98438-0205
253-982-2485
e-mail - mamfound@mcchordairmuseum.org
TOP OF PAGE

TO MUSEUM COLLECTION PAGE