_
MUSEUM COLLECTION
HISTORY
SPECIFICATIONS
AIRCRAFT ON DISPLAY
UNIT HISTORY
PHOTOS
M
c
Donnell CF-101F VooDoo
Crew Chief: OPEN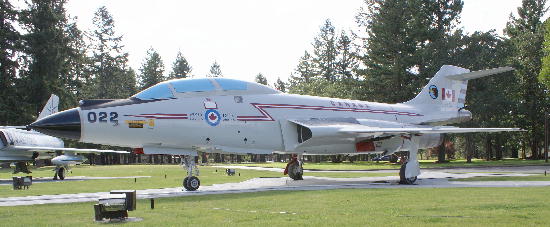 DISPLAYED ON HERITAGE HILL
HISTORY
_
The McDonnell Douglas XF-88 and the F-101A were designed as fighter escorts for the B-36 Peacemaker Strategic Bomber. However the F-101A lacked range to perform this mission. Ultimately the Strategic Air Command cancelled this requirement and production was earmarked for the Tactical Air Command.

A total of 77 F-101As were built and assigned to TACs 81st Tactical Fighter Wing. The F-101As were soon followed by the F-101C of which 47 were built. The Air Defense Command, requiring a supplement to the troubled F-102 program, turned to the two seat Interceptor version of the VooDoo, The F-101B.

The F-101B first flew on March 27, 1957, almost 3 years after the F-101As maiden flight. The 60th FIS based at Otis AFB, MA became the first of 19 ADC squadrons to receive the F-101B Interceptors and F-101F dual-controlled, fully combat-capable conversion trainers. By March 1961 480 F-101Bs and 79 F-101Fs were delivered to ADC. In 1969, Air National Guard Squadrons began receiving VooDoos from ADC squadrons, a total of 7 squadrons received F-101B/Fs. On September 21, 1982 the last USAF Voodoo was retired by the 2nd FITS, Tyndall AFB, FL.

Following the cancellation of the Avro CF-105 Arrow, the Royal Canadian Air Force received 56 F-101B & 10 F-101F Voodoos from the USAF, in return for Canada assuming responsibility for a northern based early warning radar sites. The first of five squadrons flying the Avro CF-100 Canuck began converting into the CF-101s (F-101s) on April 30, 1961. The 409th Fighter Squadron based at Comox Vancouver Island B.C. along with other CAF Air Defense squadrons began replacing their worn CF-100's between July of 1961 and May of 1962, with a full complement of Voodoo's the 409th began their first CF-101 alert on March 19 1962 at exactly 0001 hrs.

When first received, the CAF CF-101s were the most modern F-101s, but by 1967 the Canadian CF-101s lacking USAF upgrades were the least capable. Between 1969 and 1971, the USAF traded its upgraded F-101s for the Canadian CF-101s.

The Nighthawks commitment in the defense of the Pacific Northwest spanned 30 years until its last CF-101 alert on June 30, 1984. The last operational VooDoo, a electronic warfare training EF-101B, closed out CAF CF-101 operations in late 1985.
TOP OF PAGE
SPECIFICATIONS
_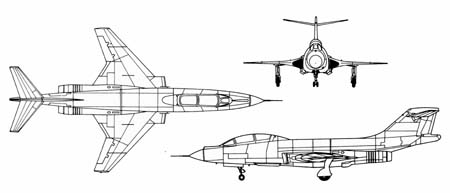 TYPE: Long –range all weather Interceptor

POWER:

Two Pratt & Whitney J-57-P-55 turbojets

SPEED:

1,221 mph (Mach 1.85)

RANGE:

1,550 miles

SERVICE CEILING: 52,100 ft

WEIGHT:

28,000 lbs. Empty; Max T/O 46,700 lbs.

DIMENSIONS:

Span 36 ft. 8

in.,

Length 67 ft 4 3/4 in. Height 18 ft.

ARMAMENT:

Two AIM-4D Falcon heat-seeking air to air missiles and

two AIR-2A Genie unguided nuclear rockets with 1.5 K warhead – armament mounted on rotary armament door.

CREW:

Pilot and Weapons Systems Operator

COST:

$1,819,000

·

McCHORD BASED UNITS -

None - 25th AD Units – Active- 322d FIS/408th FG, Kingsley Fld, OR (1959-1968) 59th FIS/408th FG, Kingsley Fld, OR, (1968-1969) - ANG -116th FIS/141th FIG, Fairchild AFB, WA (1967-1976), 123d FIS/142d FIG Portland IAP, OR (1971-1982) RCAF/ CAF-

409th Squadron, CFB Comox British Columbia, Canada

(1961-1984)
TOP OF PAGE
CF-101F S/N 101022 (USAF S/N 57-0322)
_
_
Canadian Air Force Pilot Capt. Mumbles Dowler and his Weapons System Officer Capt. Doug Neill land CF-101F S/N 101022 for a final time before its delivery to the McChord Air Museum on Sunday July 8, 1984.
TOP OF PAGE
U
NIT HISTORY
AUGUST

1959
Completed by McDonnell Aircraft Company St Louis, MO.
25

AUGUST

1959
Delivered to the

49th Fighter-Interceptor Squadron, Griffiss AFB, NY
(Air Defense Command)
NOVEMBER 1959
To 52nd Consolidated Logistics Maintenance Squadron, Suffolk County Airport, NY
(
Air Defense Command)
APRIL

1960
To 444th Fighter-Interceptor Squadron, Charleston AFB, SC
(
Air Defense Command)
FEBRUARY 1961
Redesignated F-101F
AUGUST

1964
To 1608th Air Transportation Wing, Heavy , Charleston AFB, SC
(Military Air Transportation Service)
OCTOBER 1964
To 444th Fighter-Interceptor Squadron, Charleston AFB, SC
(Air Defense Command)
JULY 1968
To the Military Aircraft Storage and Disposal Center, Davis-Monthan AFB, AZ ,
stored
with 2542.6 total airframe hrs.
(Air Force Logistics Command)
MAY 1971
To
Bristol Aerospace Limited, Winnipeg, Canada for rework
.
SEPTEMBER 1971
Dropped from USAF inventory by transfer to the Military Assistance Program
under "Operation Peace Wings"
(Canadian Armed Forces)
07 DECEMBER 1971
To 409th Squadron, CFB Comox British Columbia, Canada
(Canadian Armed Forces)
08 JULY 1984
Accepted by the McChord Air Museum, McChord AFB, WA , for display.
(United States Air Force Museum Program)
TOP OF PAGE
A
DDITIONAL PHOTOS
TOP OF PAGE
Website provided and maintained by:
The McChord Air Museum Foundation
P.O. Box 4205
McChord AFB, WA. 98438-0205
253-982-2485
e-mail - mamfound@mcchordairmuseum.org
TOP OF PAGE

TO MUSEUM COLLECTION PAGE
_