_
MUSEUM COLLECTION
HISTORY
SPECIFICATIONS
AIRCRAFT ON DISPLAY
UNIT HISTORY
PHOTOS
D
ouglas TC-47D Skytrain
Crew Chief: Ed Baker

DISPLAYED ON HERITAGE HILL
HISTORY
The origin of the C-47 is closely and directly connected with the appearance of the Douglas DC-3 airliner, which is considered by some the most successful civil aircraft The DC-3 made its first flight on December 17, 1935, and first went into service with American Airways in June, 1936.

The military had acquired a few of the earlier plane, the DC-2, and proceeded to order the new plane the DC-3, as well, in a reinforced and higher-powered version adapted to military service, what was to become

the C-47. The first orders were placed in 1940, and the first production models were delivered to units the following year.

The C-47 Skytrain, nicknamed the "Gooney Bird," first entered service in 1941 and became the backbone of the U.S. Army Air Forces airlift capability during World War II. In the war C-47ís helped the 62d and itís squadrons make their mark on the front lines of North Africa and Europe theaters, transporting ammunition, food, clothing, medical supplies evacuated wounded personnel and flew missions behind enemy lines in Italy and the Balkans to haul guns and missions dropping propaganda leaflets. In conducting it main mission, the delivery of troops, the 62d also utilized the CG-4 Hadrian Gliders. At the conclusion of the war, Gen. Dwight D. Eisenhower called the Skytrain one of the four weapons, along with the bazooka, jeep and atomic bomb, that most helped to win World War II.

After the war, airlines converted many C-47s for commercial use while other Skytrains remained in active service. The U.S. Air Force used the C-47 during the Berlin Airlift and in the Korean War, C-47s hauled cargo, dropped paratroopers and evacuated wounded personnel.

Nearly 20 years later, the venerable aircraft participated in the Vietnam War where it served in transport, reconnaissance and psychological warfare mission roles. But, the aircraft gained its notoriety in Southeast Asia as the AC-47 gunship, better known as "Puff, the Magic Dragon," with its side-firing 7.62-mm mini-guns.

The Douglas Aircraft Corporation produced more than 10,000 Skytrains in 25 different variants. The models included an AC-47 gunship, HC-47 rescue aircraft, RC-47 reconnaissance plane and a TC-47 for training.

The Air Force retired its last C-47 in June 1975, but many of the durable and reliable "Gooneys" continued to fly .
TOP OF PAGE
SPECIFICATIONS
__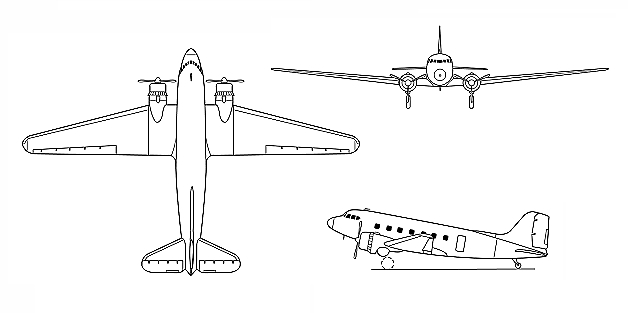 _
TYPE:

Cargo and troop transport, and

glider tug

POWER: Two Pratt & Whitney R-1830s with 1,200 hp. ea.

SPEED:

Maximum: 232 mph, Cruising: 175 mph.

RANGE :

1,513 miles

SERVICE CEILING:

24,450 ft.

WEIGHTS: Empty: 101,340 lbs, Combat: 123,100, Max T.O. / Landing: 185,000 lbs

MAXIMUM PAYLOAD:

10,000 lbs, or

28 troops, or 18 stretchers

DIMENSIONS:

Span: 95 ft. 0 in. Length: 64 ft. 5 in. Height: 16 ft. 11 in

CREW:

Pilot, Co-pilot, Radio operator, with provisions for additional crew members

PRODUCTION TOTALS:

9,348 ( all models AAF/USAF)

UNIT COST:

$138,000

McCHORD BASED UNITS:

Various units -WWII -

62d TCG (1942- 1945) - 4th TCS, 7th TCS,

8th

TCS, 51st TCS
TOP OF PAGE
TC-47D S/N 44-76502
_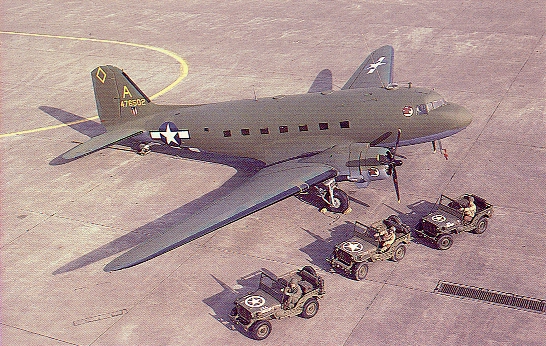 During WWII, the Museums C-47 was used as a navigational trainer to train AAF navigators Locations for three astrodomes that were used for taking celestial observations can be seen on our "flying classroom". After years of service at Lowry AAF/AFB CO were it served as a proficiency trainer and general cargo missions, -6502 went on to serve in the South Vietnamese Air Force were it received a number of built holes that can be seen in the aircrafts fuselage. Now wearing the WWII colors of the 4th Troop Carrier Squadron as their aircraft appeared during the invasion of Southern France, the aircraft was used as the centerpiece of a 50th Anniversary celebration for the 4th Squadron in March of 1985.
TOP OF PAGE
U
NIT HISTORY
13 MARCH 1945
Completed and delivered by Douglas Aircraft Company, Oklahoma City, Oklahoma
20 MARCH 1945
Love Army Air Field, TX (Ferry flight)
20 MARCH 1945
3415th Technical Training Wing, Lowry Army Air Field, CO
(Army Air Forces Training Command)
23 DECEMBER 1953
To San Bernardino Air Material Area, Norton AFB, CA
(Air Material Command)
DATE UNKNOWN
Dropped from inventory by transfer to the Military Assistance Program,
later acquired by the Vietnamese Air Force
DATE UNKNOWN
To Davis Monthan AFB, AZ for storage
02 JANUARY 1985
Loaned to McChord Air Museum, McChord AFB, WA for display.
(United States Air Force Museum Program)
TOP OF PAGE
A
DDITIONAL PHOTOS
_
TOP OF PAGE
Website provided and maintained by:
The McChord Air Museum Foundation
P.O. Box 4205
McChord AFB, WA. 98438-0205
253-982-2485
e-mail - mamfound@mcchordairmuseum.org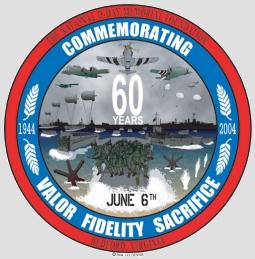 TOP OF PAGE

TO MUSEUM COLLECTION PAGE