MUSEUM COLLECTION
HISTORY
SPECIFICATIONS
AIRCRAFT ON DISPLAY
UNIT HISTORY
PHOTOS
douglas B-23 Dragon
Crew Chief: Open

DISPLAYED ON HERITAGE HILL
HISTORY
As product of pre-World War Two technology, the Douglas B-23 Dragon was the Army Air Corps first bomber with a manned tail gun emplacement, featuring a .50-caliber gun that was larger than the .30-caliber guns standard in pre war Air Corps design.

In 1938, the Douglas Aircraft Co. developed the B-23 Dragon to rectify the shortcomings of its B-18 Bolo, The B-23 Dragon featured upgraded engines, considerably refined fuselage included and a tail gun position than found in the B-18.

The first B-23 (S/N 39-27) was completed in July of 1939, and completed its first flight from Clover Field at Santa Monica on July 27, 1939. After being evaluated by the Materiel Division at Wright Field in Ohio, deliveries of the aircraft began the next year. Beginning in February in 1940, McChord's 17th Bombardment Group and the 89th Reconnaissance Squadron received their first factory fresh Dragon Bombers as a supplement to the B-18 Bolo's currently assigned to the base. The Air Corps received its last of its 38 B-23s in September 1940.

Early evaluations revealed disappointing performance, even though the B-23 was 66 mph faster than its B-18A predecessor and had a much better range, it was still clearly inferior to other bombers of it's era. The B-23 was slower than the Boeing B-17 Fortress, the North American B-25 Mitchell and Martin B-26 Marauder and was less heavily armed. Consequently, the B-23 was never used in its intended bombardment role and never saw any combat overseas. Ultimately relegated to training, and as a utility transport (as UC-67) and many for many other tests and experiments.

After the end of the war, surviving B-23s and UC-67s were sold off as surplus. Many were refitted as corporate aircraft and were provided with a new and longer metal nose, full washroom facilities, plus accommodations for twelve passengers in two compartments.
TOP OF PAGE
SPECIFICATIONS
__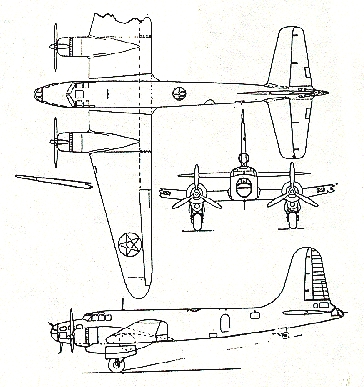 _
TYPE:

Medium Bomber

POWER:

Two Wright R-2600-3 Radial piston engines with 1,600 hp. each

SPEED:

Maximum - 282 mph,

Cruising -

210 mph.

RANGE :

1,400 miles

(with 4000 lbs of bombs)

SERVICE CEILING:

31,600 ft

WEIGHTS: Empty: 19,089 lbs, Combat: 26,500, Maximum: 32,400 lbs

MAXIMUM PAYLOAD: 4,400 lb. (1996 kg) of bombs carried internally

DIMENSIONS: Span 92 ft, Length 58 ft 4 3/4 in, Height 18 ft 5 1/2 in.

CREW:

Five; Pilot, Co-Pilot, Radio Operator, Bombardier and Tail gunner

PRODUCTION TOTALS:

38 ; 15-18 converted into UC-67

UNIT COST :

$133,000

McCHORD BASED UNITS:

12th Bombardment Group,

17th Bombardment Group,

47th Bombardment Group, 89th Reconnaissance Squadron,
TOP OF PAGE
B-23 S/N 39-36
_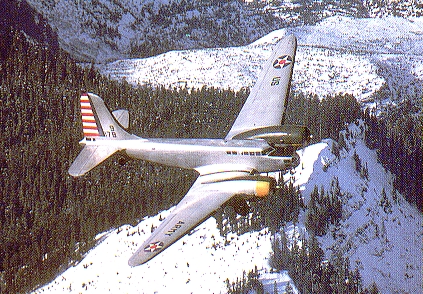 Flying over the snow covered Cascade foothills in Washington State the Air Museums Douglas B-23 39-36 is shown making its last final approach to McChord AFB on December 12, 1985. After a short Military career, the Museums B-23 passed through many civilian hands including the University of Washington. On June 3, 1983 suffered partial landing rear collapse on landing at Kingman, AZ. and later sold to Warbird Collector Ascher Ward After completing some restorations the B-23 was traded to the U.S. Air Force Museum (for a F-104 and C-123's) and loaned to the McChord Air Museum.
TOP OF PAGE
U
NIT HISTORY
__
28 JUNE 1940
Completed and delivered by Douglas Aircraft Company, Long Beach, CA
1940
To Maxwell Field, AL (Unit Unknown)
(United States Army Air Corps)
DATE UNKNOWN
To 13th Bombardment Group, Orlando Field, FL
(United States Army Air Corps)
DATE UNKNOWN
To Eglin Field, FL (Unit Unknown)
(United States Army Air Corps)
23 JULY 1944
Redesignated UC-67
(United States
Army Air Corps
)
08 SEPTEMBER 1944
To Reconstruction Finance Corporation (RFC), McKellar Field, TN
disposed as surplus
, ending with 1095 hrs.
(United States
Army Air Corps
)
19 APRIL 1945
Sold to Paul Mantz Air Services ($20.000) re-registered as NC52327
28 AUGUST 1947
Sold to The California Oil Company, New Orleans, LA
(radar installed on 15 March 1959)
18 JULY 1960
Sold to Standard Oil Company of Texas, Houston, TX
30 MARCH 1970
Sold to Westernaire, Albuquerque, NM
02 SEPTEMBER 1970
Sold to
Data Flight, Inc, Seattle WA, (12,726hrs at 16 November 1970).
Modified for Meteorological research in late 1970 / early 1971.
Leased to the University of Washington for Meteorological and
Geophysical research
30 MARCH 1977
Sold to Spurling Aviation, Inc - Lease to UW continues.
01 MARCH 1980
Sold to Puget Sound Flight Center Inc - Lease to UW continues.
01 APRIL 1980
Sold to Puget Sound Corporation -Flight Center- Lease to UW continues.
01 APRIL 1980
Sold to Puget Sound Helicopters Inc- Lease to UW continues.
1984
Sold to Ascher Ward and Al Hansen, Mojave, CA
12 DECEMBER 1985
Loaned to McChord Air Museum, McChord AFB, WA for display.
(United States Air Force Museum Program)
TOP OF PAGE
A
DDITIONAL PHOTOS
_
TOP OF PAGE
Website provided and maintained by:
The McChord Air Museum Foundation
P.O. Box 4205
McChord AFB, WA. 98438-0205
253-982-2485
e-mail - mamfound@mcchordairmuseum.org
TOP OF PAGE

TO MUSEUM COLLECTION PAGE