_
MUSEUM COLLECTION
HISTORY
SPECIFICATIONS
AIRCRAFT ON DISPLAY
UNIT HISTORY
PHOTOS
Consolidated
SA-10A Catalina
Crew Chief: Chuck Bowen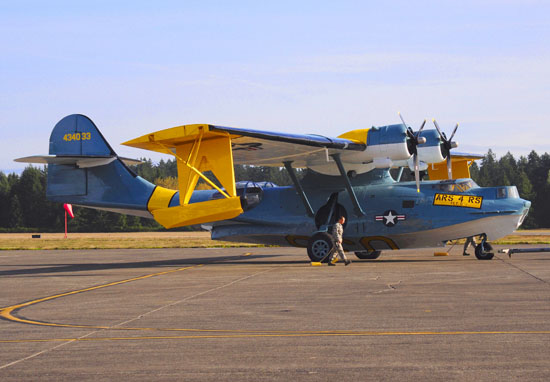 NOT ON DISPLAY -
UNDER RESTORATION
HISTORY
The OA-10 is the U.S. Army Air Force version of the PBY series seaplanes and amphibians flown extensively by the Navy during WW II. It is a twin-engine, parasol-mounted monoplane equipped with a flying boat hull, retractable tricycle landing gear and retractable wing-tip floats. The OA-10 was used primarily for air-sea rescue work ("DUMBO" missions) with the AAF's Emergency Rescue Squadrons throughout WW II and for several years thereafter. During the war, OA-10 crews rescued hundreds of downed fliers.

The prototype Catalina first flew on March 28, 1935. It was produced by Consolidated Aircraft Corp. in both seaplane and amphibian versions. Catalina's also known as "Cat" were also produced by Canadian Vickers, Ltd. and the Naval Aircraft Factory. Eventually, nearly 2,500 Catalina derivatives were built for the Navy. Just before Pearl Harbor the U.S. Army acquired the first of 56 PBY-5As (Patrol Bomber Consolidated - 5th series - Amphibian) from the U.S. Navy as OA-10s (Observation Amphibian - 10th aircraft type).

In 1945 the Army purchased 75 of the improved PBY-6As built by Consolidated as OA-10Bs. At the end of 1948 the new U.S. Air Force changed OA-10A to A-10A. Soon these became SA-10As (Search Amphibian), when the USAF reserved the A for Attack aircraft. The AAF/USAF eventually purchased 380, the survivors served in search and rescue work until replaced by the Grumman SA-16 "Albatross" in the mid 1950s.
TOP OF PAGE
_
SPECIFICATIONS
__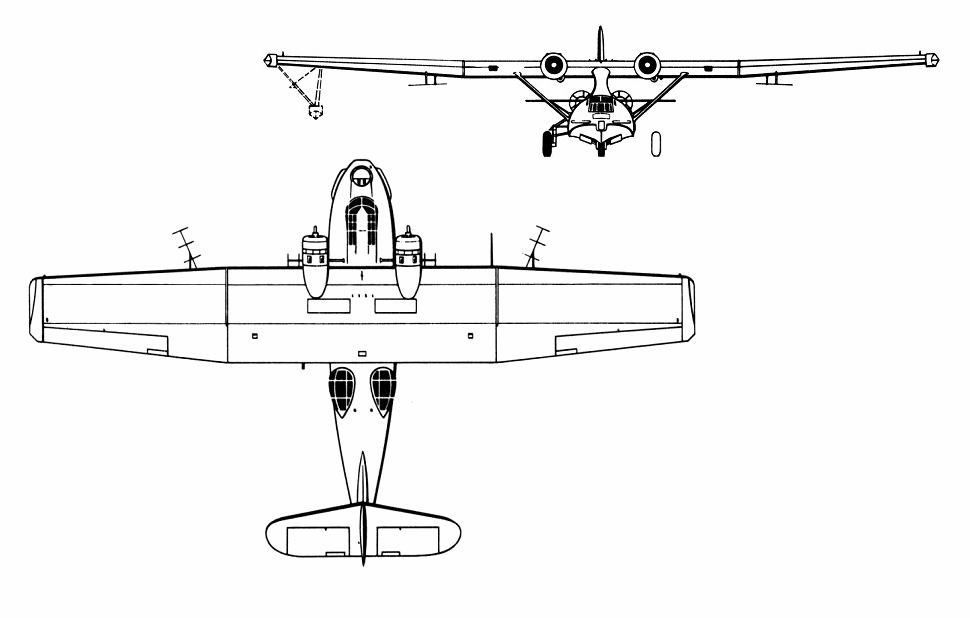 _
TYPE:

Search and Rescue (

Amphibian)

POWER:

Two

Pratt & Whitney R-183-92 Twin Wasp with 1,200 hp

SPEED:

Maximum 175 mph; Cruising 113 mph

RANGE :

3,100 mi

SERVICE CEILING:

13,000 ft

WEIGHTS: Empty: 20,910 lbs; Maximum: 35,420 lbs

ARMAMENT:

Provisions for

Two .50-cal. machine guns in the waist and two .30-cal. machine guns--one in the bow and another in a rear tunnel--plus 8,000 lbs. of bombs


DIMENSIONS:

Span: 104 ft.; Length: 63 ft. 10 in.; Height: 20 ft. 1 in.

CREW:

Nine; Pilot, Co-Pilot, Navigator, Radio Operator, Bombardier/ Gunner and Tail gunner pilot, co-pilot, navigator, radio/radar operator, flight engineer, bombardier/gunner, 3 gunners

PRODUCTION TOTALS:

(USAAF/USAF) : 58 (OA-10/ BY-5A, Navy transferred ); 252( OA-10A/PBY-5A Canadian Vickers PBV-5A); 75 OA-10B (OA-10B/PBY-6A, Navy transferred)

UNIT COST :

$50,000

McCHORD BASED UNIT:
TOP OF PAGE
_
SA-10A S/N 43-43847
_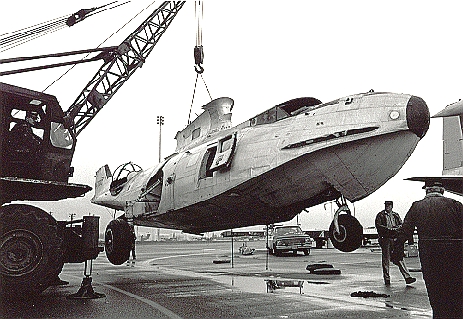 During November and December of 1988, Two trucks from Kansas and one from Canada to brought the McChord Air Museums SA-10A Catalina to its new home in Washington State. Purchased from a private collector the Cat is currently under restoration, when finished she will be painted to represent OA-10A 44-34033 when it was based at McChord Force Base in the late 40's.
TOP OF PAGE
_
U
NIT HISTORY
18 AUGUST 1943
Completed by Consolidated Aircraft Corp for the US Navy (S/N 33993)
received by the USAAF on the date above (as 43-43847)
01 AUGUST 1944
To 3704th Base Unit, Keesler AAFld, MS
22 AUGUST 1944
To 30th Weather Squadron, Keesler AAFld, MS
(Air Transportation Command)
24 AUGUST 1944
To Presque Isle AAFld, ME
01 SEPTEMBER 1944
To 1380th Base Unit, Presque Isle AAFld, ME
31 OCTOBER 1944
To Northern Atlantic Division
(Air Transportation Command)
11 JANUARY 1945
Returned to US from service with the Northern Atlantic Division
(Air Transportation Command)
10 FEBRUARY 1945
To 3704th Base Unit, Keesler AAFld, MS
(Air Transportation Command)
14 NOVEMBER 1945
Dropped from USAAF inventory transferred to Reconstruction Finance Corp ,Biloxi, MS
1945-1946?
Purchased by Alaska Costal Airlines, Juneau AK, Registered as N4760C
modified to Steward-Davis Super Cat
Late 1960's
Sold to Geoterrex for survey duties.
EARLY 1980
Purchased by the Military Aircraft Restoration Corporation, Chino CA
after landing Accident (22 March 1983)
NOVEMBER - DECEMBER 1988
Loaned to McChord Air Museum, McChord AFB, WA for restoration display (as 43-4033).
(United States Air Force Museum Program)
TOP OF PAGE
_
A
DDITIONAL PHOTOS
TOP OF PAGE
_
Website provided and maintained by:
The McChord Air Museum Foundation
P.O. Box 4205
McChord AFB, WA. 98438-0205
253-982-2485
e-mail - mamfound@mcchordairmuseum.org
TOP OF PAGE

TO MUSEUM COLLECTION PAGE
_