_

OUR HISTORY

C-17A S/N 98-0049

Accepted - April 22, 1999

(delivered to Charleston AFB)

Transferred to McChord in February 2001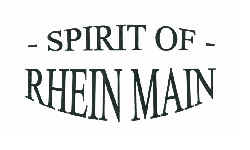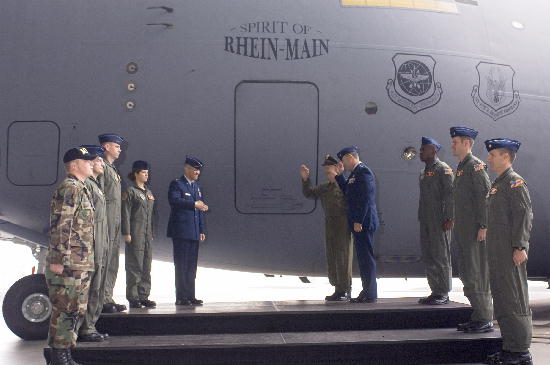 photo by Master Sgt. John E. LaskyUD USAF
At the official closing ceremony of Rhein-Main AB, a crew from the 10th AS stand at attention with (from left) Air Mobility Command vice commander Lt. Gen. Christopher A. Kelly, retired Lt. Col. Gail Halvorsen (the Famous Candy Bomber, story below) and Col. Bradley Denison, 469th Air Base Group Commander from the former Rhein-Main AB. )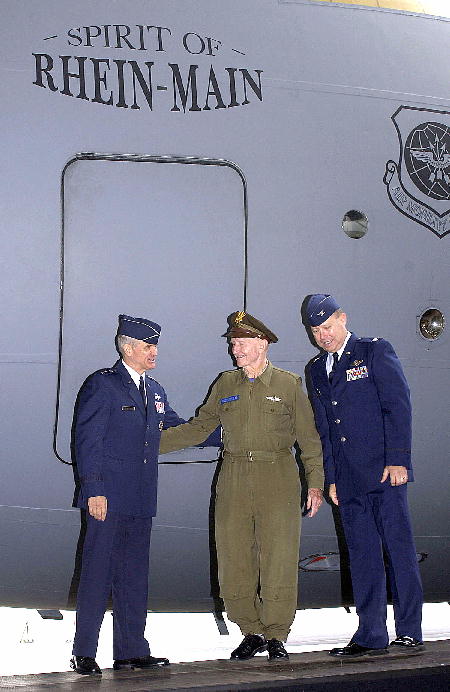 photo by Staff Sgt. Marie Cassetty
USAF
RHEIN-MAIN AIR BASE, Germany - (From left) Lt. Gen. Christopher A. Kelley, Air Mobility Command vice commander; retired Lt. Col. Gail Halvorsen; and Col. Bradley Denison, 469th Air Base Group commander, unveil the newly named C-17 Globemaster III "Spirit of Rhein-Main" during the base closure ceremony here Octtober 10, 2005. The ceremony officially marked an end of 60 years of airlift history. Flying at the base ended September 30, 2005 and the "Gateway to Europe" will transition to Ramstein and Spangdahlem Air Bases in Germany.
Lt. Col. Gail Halvorsen - The Candy Bomber
Between the years of 1948 and 1949 Berlin Airlift pilot Lt. Gail Halvorsen was so struck with the friendliness and excitement of the Berlin children that he wanted to do something special for them and to spread a little cheer to their beleaguered times in Berlin during the blockade. Lt. Halvorsen decided to start his own operation and named it "Operation Little Vittles" He practically bought out all the candy available where he was based and out of strips of cloth created miniature parachutes and attached the candy to them. At the beginning, Lt. Halvorsons buddies gave up their rations of candy and gum and also their handkerchiefs to help the cause. The American Confectioners Association asked Lt. Halvorsen how much candy and gum he could use. They sent tons of candy and gum to Westover AFB for processing. 22 schools in Chicopee Massachusetts converted an old fire station into a Little Vittles headquarters. They made parachutes, tied on candy or gum and sent the finished product to Lt. Halvorsen at Rhine Main AFB. When the supplies came on line at Rhine Main all of Lt. Halversons squadron and others helped drop the candy and gum. They then air dropped the candy over the city of Berlin (including East Berlin until the Russians told them to stop ) to the eagerly waiting children. By January of 1949 Lt. Halvorsen had air dropped more than 250,000 parachutes loaded with candy on the city of Berlin bringing a little joy to the nearly 100,000 children of Berlin during the Russian blockade.

News of this also spread to the U.S. government and Lt. Halvorsen was chosen to receive the Cheney Award for the year of 1948. "For an act of Valor, Extreme Fortitude, or self-sacrifice in a humanitarian interest. " When the crowds of children became too large the safety of the children were primary concern. So the crew would drop the candy in areas around the city where they saw children playing. Candy was also sent to children in schools, hospitals and so on. Of course the Russians tried to discredit this effort by claiming that children had destroyed a cemetery near Templhoff where the candy was dropped but in the end, there was no basis for this outlandish verbal attack.

Some of the other names for Lt. Halvorsen were: Uncle Wiggly Wings, The Schokoladen Flieger, Uncle Wackelfluger, and, Raisin Bomber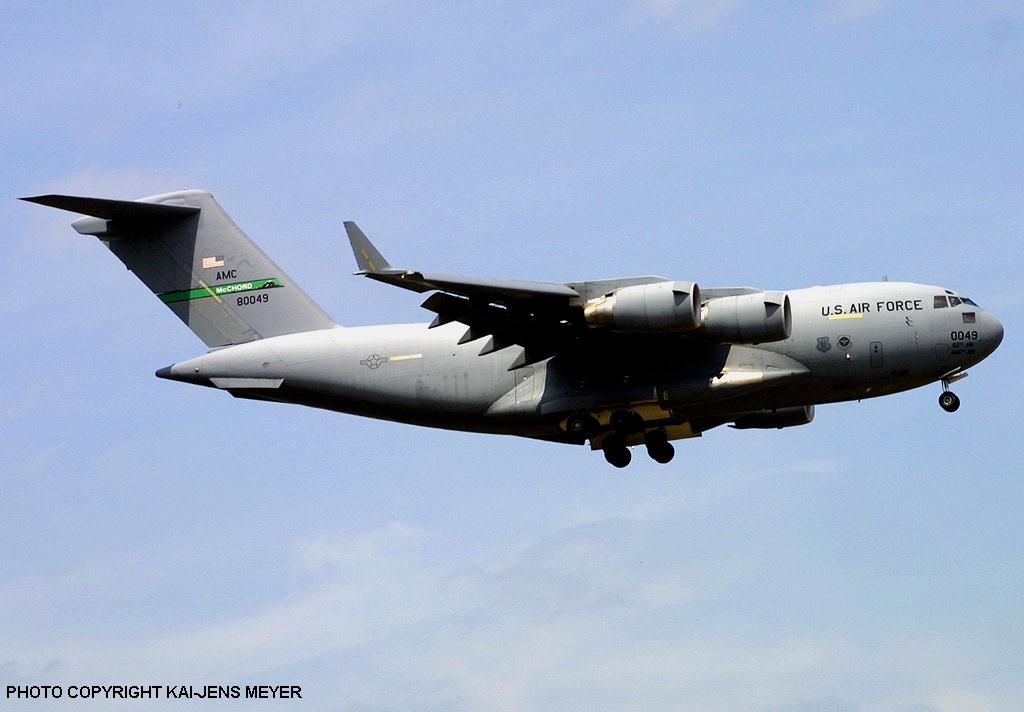 Photo by Kai-jens Meyer www.planespotting.net
C-17A -0049, the first Block10 (also know as Block 9+) model, was initially delivered to the 437th AW but later joined AMC fleet of Block 10's at McChord. The above picture was taken at Rhein-Main AB, Germany on July 12, 2002.

photo by Kristin Royalty USAF
C-17 -0049 sits on the flightline and waits to begin its day of combat airlift as dawn breaks over Mt. Rainier.
Website provided and maintained by:
The McChord Air Museum Foundation
P.O. Box 4205
McChord AFB, WA. 98438-0205
253-982-2485
e-mail - mamfound@mcchordairmuseum.org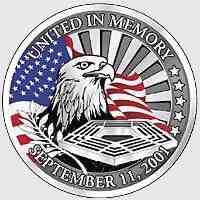 _