_

OUR HISTORY

_

C-17A S/N 96-0005

Accepted -

January 31, 1998
Assigned to the 437th Airlift Wing (AMC) and the 315th Airlift Wing (AFRC), Charleston AFB, S.C.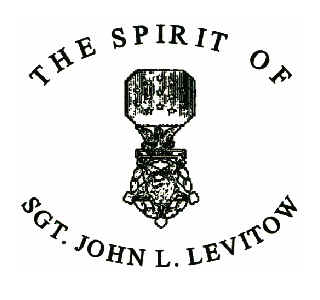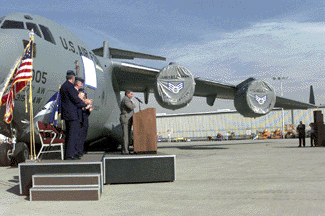 John L. Levitow addresses a crowd of more than 300 people during the naming ceremony for C-17 96-0005 in his honor at Long Beach, CA.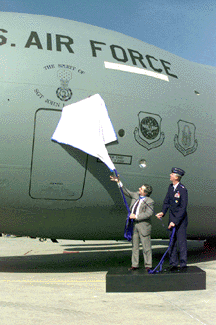 Sgt. Levitow (Ret) and Gen. Walt Kross, commander of Air Mobility Command, remove the masking from the Spirit of John L. Levitow artwork on the side of s/n -0005 named in the Medal of Honor recipient.
Sgt. John Lee Levitow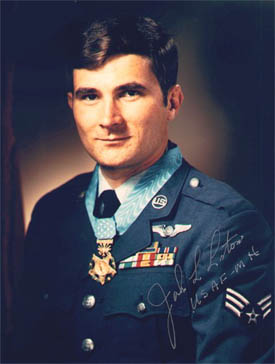 John L.Levitow, the first Air Force enlisted man to be awarded the Medal of Honor during the Vietnam War, died on November 8 2000 at his home in Rocky Hill, Conn. He was 55.
On the night of Feb. 24, 1969, Airman First Class Levitow was serving as loadmaster of an AC-47 gunship circling over the besieged United States Army base at Long Binh. The plane was firing thousands of rounds of ammunition at enemy forces and dropping magnesium flares to illuminate their positions for the American ground troops.

Airman Levitow, on his 181st combat sortie, was responsible for removing the flares from a rack, setting their controls and passing them to a gunner who would pull the safety pins, then throw the flares out a cargo door. The flares, attached to parachutes, ignited in midair 20 seconds later.

In the fifth hour of the mission, a Vietcong mortar hit the plane's right wing and exploded, opening a hole two feet in diameter and sending shrapnel through the aircraft's skin.

Airman Levitow was hit by 40 pieces of shrapnel in his back and legs and was stunned from the blast's concussion. "It felt like a large piece of wood struck my side," he would recall.

The other four crewmen in the cargo compartment were also wounded as the pilot struggled to keep the plane under control.

The gunner, Airman Ellis Owen, was about to toss a flare out the cargo door when he was wounded. The flare, fully armed and capable of burning through the plane's metal skin if it ignited, fell from his grasp.

As Airman Levitow was moving another wounded crewman away from the open cargo door, he saw the smoking flare rolling wildly from side to side among thousands of rounds of ammunition. An explosion seemed imminent.

Airman Levitow reached three times for three-foot-long, 27-pound metal tube holding the flare, but it slipped from his grasp each time. Finally, he threw himself on it, hugged it to his body and dragged it to the open door, trailing blood from his wounds and having lost partial feeling in his right leg.

He heaved the flare outside the door. A second or so later it ignited, but it was clear of the aircraft.

The pilot, Maj. Kenneth Carpenter, made a safe landing at the Bien Hoa air base with more than 3,500 shrapnel holes in the fuselage.

"I had the aircraft in a 30-degree bank, and how Levitow ever managed to get to the flare and throw it out, I'll never know," Major Carpenter said.

After being treated for his injuries, Airman Levitow flew an additional 20 combat missions. He was discharged from the Air Force in August 1969 as a sergeant and received the Medal of Honor from President Richard M. Nixon at the White House on May 14, 1970. The citation stated that he "saved the aircraft and its entire crew from certain death and destruction."

John Lee Levitow, a native of Hartford, worked for federal and state veterans' agencies for more than two decades after leaving the Air Force. He was the legislative liaison and director of planning for the Connecticut Department of Veterans Affairs.

On November 8, 2000, Sgt. Levitow died of cancer at the age of 55. He is buried in Arlington National Cemetery. Shortly after his death, on December 8, 2000 the Air Force Cross awarded posthumously to Airman First Class William H. Pitsenbarger was upgraded to a Medal of Honor, adding a second Air Force enlisted man to the rolls of the Medal of Honor for Vietnam.

Levitow is survived by a son, John Jr., of Charlotte, N.C.; a daughter, Corrie Wilson, of Cromwell, Conn.; his mother, Marion Levitow, of South Windsor, Conn.; a sister, Mary-Lee Constatino, of East Hartford, Conn., and a grandson.
Website provided and maintained by:
The McChord Air Museum Foundation
P.O. Box 4205
McChord AFB, WA. 98438-0205
253-982-2485
e-mail - mamfound@mcchordairmuseum.org

_