OUR HISTORY
_
C-17A S/N 00-0174
Acceptance date - June 27, 2001
McChord's 24th factory delivered C-17A
Transferred to Elmendorf AFB, AK in 2007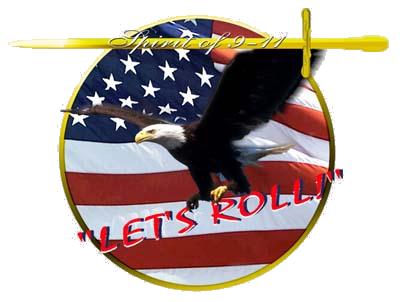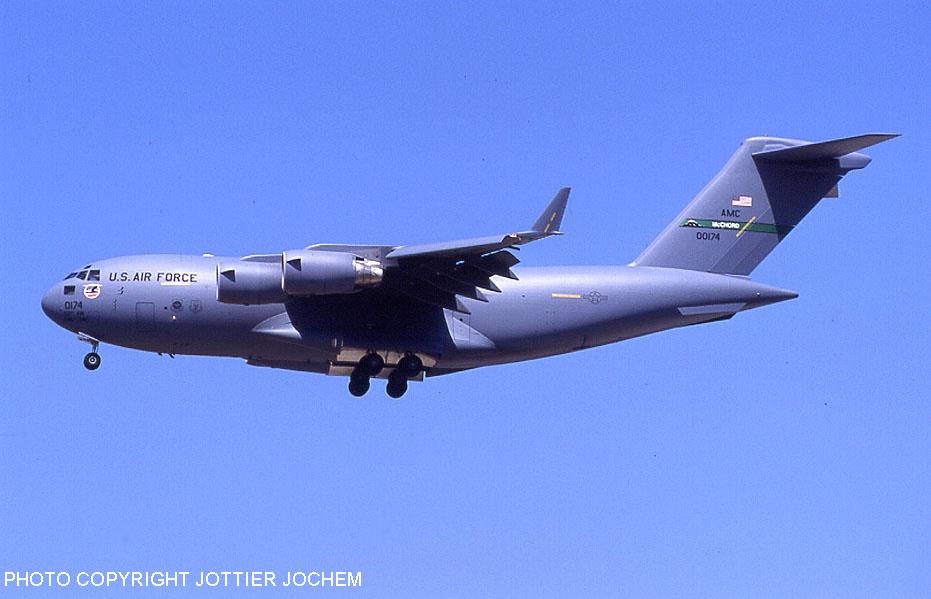 Photo by Jottier Jochem
C-17A -0174 photographed prior landing at Rhein-Main AFB Frankfurt, Germany, July 8, 2002, note the "Let's Roll" decal under the cockpit window.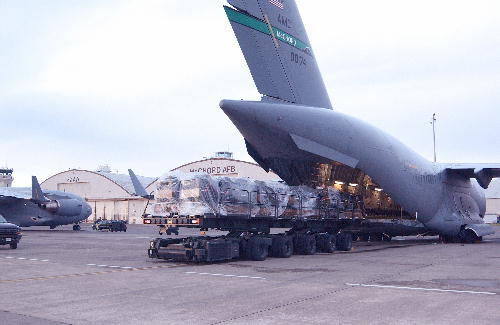 photo by Kevin J. Tosh Jr. USAF
McChord Airmen load pallets of fuel onto -0174 to support the C-17 Globemaster III's first polar airdrop. About 10,000 gallons of fuel were dropped to help National Science Foundation scientists near the North Pole.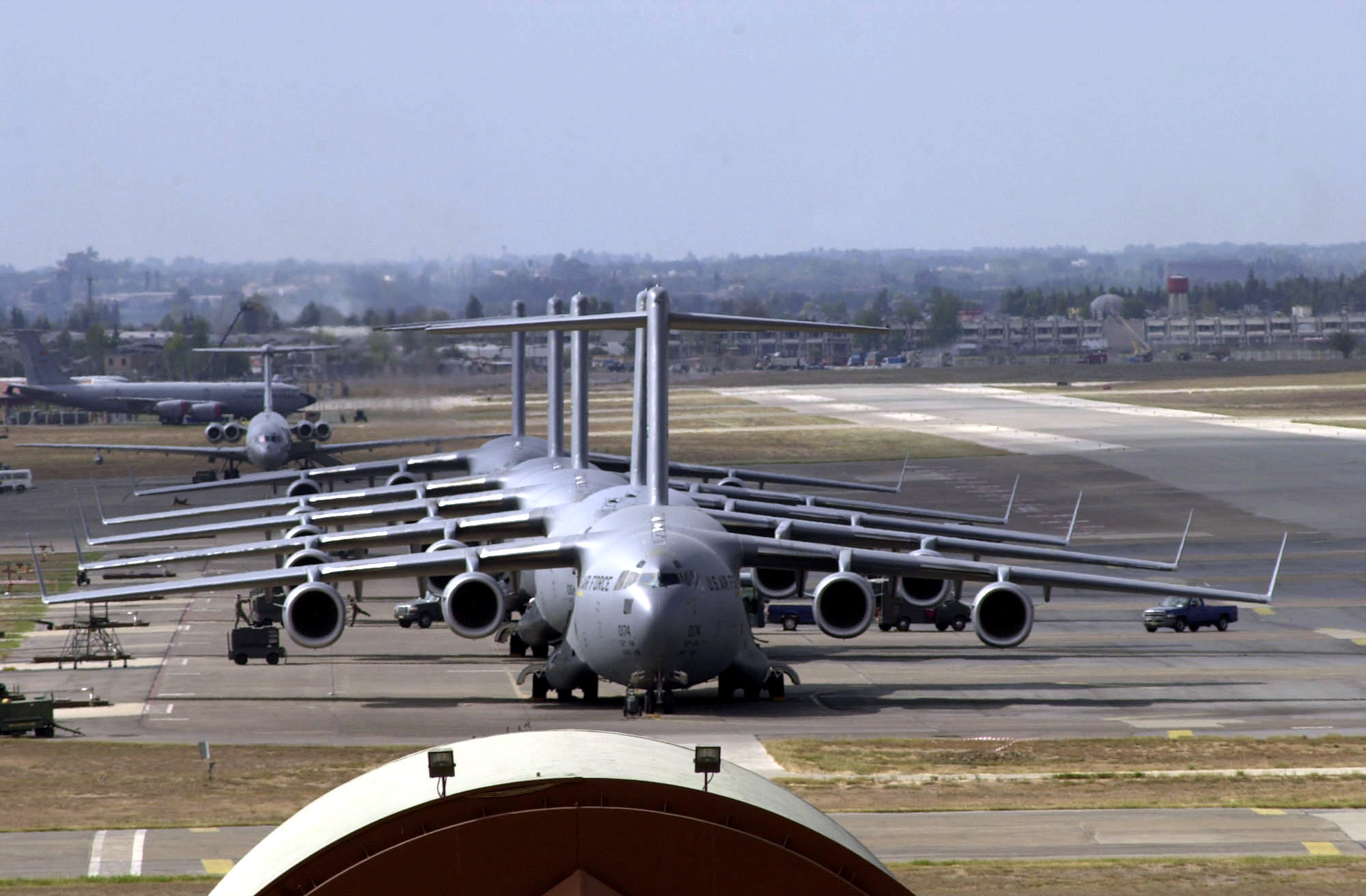 photo by Senior Airman Matthew Hannen
U.S. Air Force
C-17 -0174 leads

a row of Globemaster III aircraft drop-off rations and refuel at a forward deployed location in support of Operation Enduring Freedom. About 60 cargo aircraft flew in and out of the location over a 12 hour period.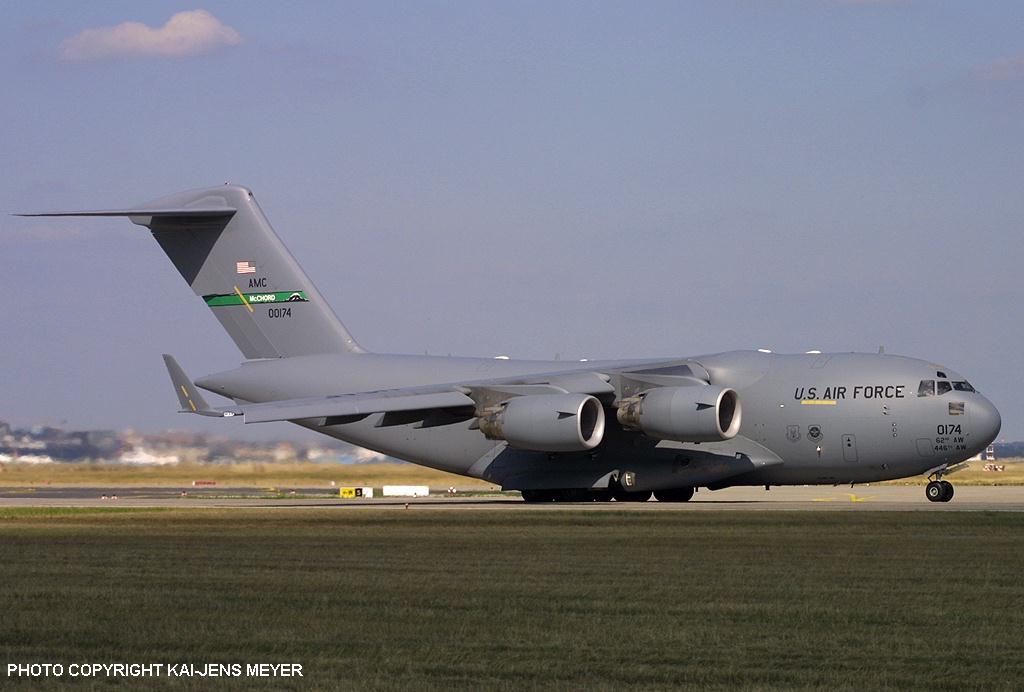 Photo by Kai-jens Meyer www.planespotting.net
C-17A -0174 at Rhein-Main AFB on July 19, 2002.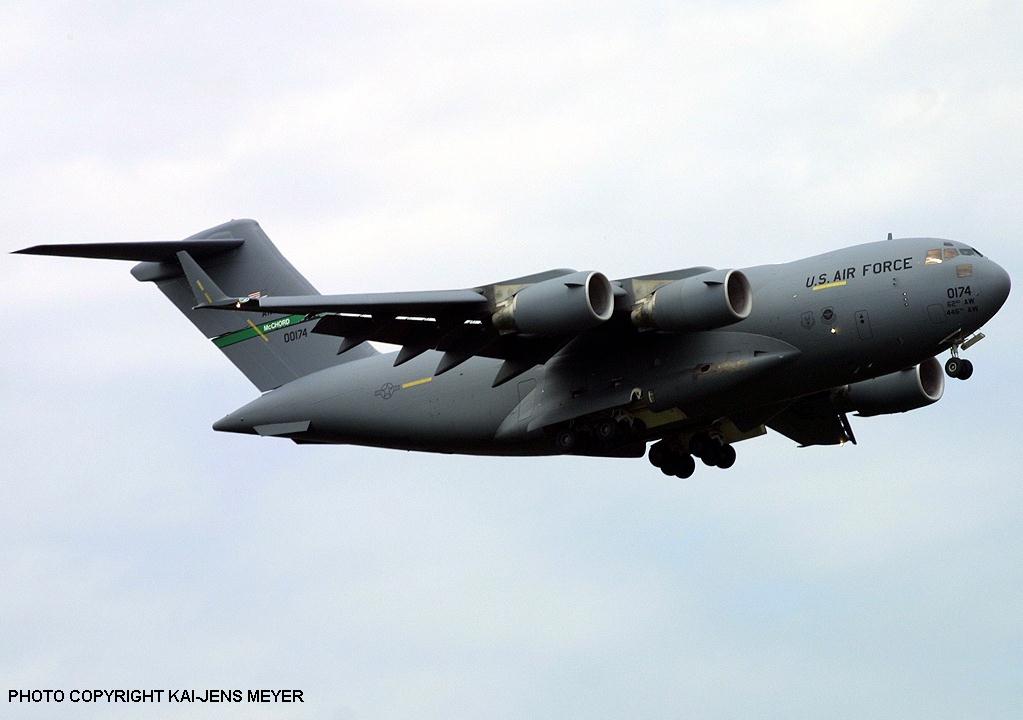 Photo by Kai-jens Meyer www.planespotting.net
0174 lining up for a landing at Rein-Main AB's runway 07R on July 12, 2002.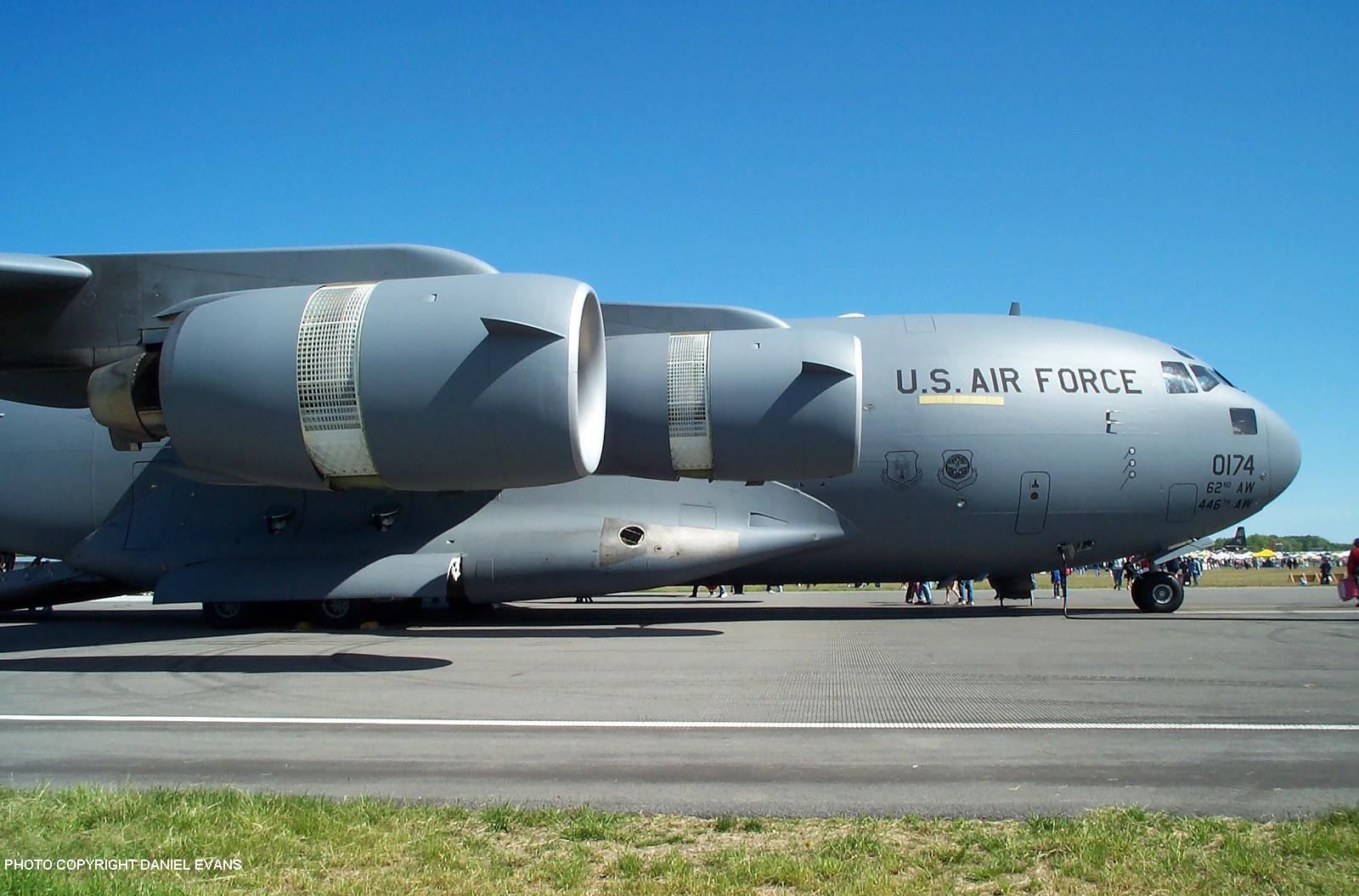 PHOTO BY DANIEL EVANS DANIEL EVANS

-

airliners.net
With it's trust-reverses deployed, -0174 was a popular attraction at the Flight 2002 Airshow in Schenectady New York in May of that year.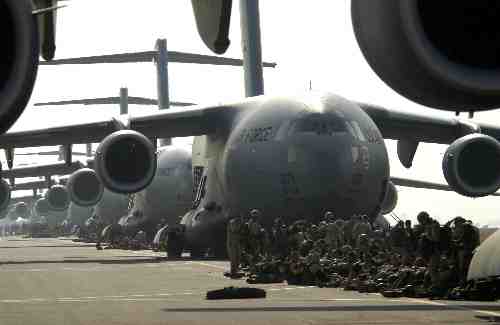 Photo by Tech. Sgt. Stephen Faulisi USAF
U.S. Army paratroopers and U.S. Air Force tactical air controllers from the 173rd Airborne Brigade, along with an Air Force Contingency Response Group, board -0174 at an undisclosed location on March 26, 2003 in support of Operation Iraqi Freedom .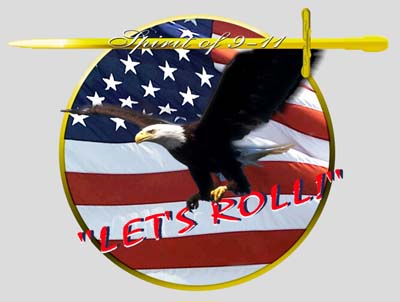 " Let's Roll ! " were the last words heard from Todd Beamer, a passenger on Flight 93 over Pennsylvania on September 11, 2001. In late 2001, Air Force Chief of Staff Gen. John P. Jumper directed the application of special nose art on select aircraft "to honor America's spirit, dedication and resolve following the Sept. 11 attacks on the World Trade Center and the Pentagon." The U.S. Air Force adopted Mr. Beamer's slogan as a theme for a nose art design for their aircraft.

The nose art design was created by Senior Airman Duane White attached to the Air Combat Command's multimedia center at Langley Air Force Base, VA. The Thunderbirds and Air Force Single ship demonstration teams used the art on all of their assigned aircraft. Other commands and wings are authorized to use the nose art on one aircraft of their choice.

In a short ceremony on March 18, 2002 former Wing Commander Colonel Paul Selva presented the "Let's Roll" nose art on C-17A 00-0174 as their tribute to the events of September 11.

The "Let's Roll!" nose art is being used to continue the remembrance of the events of September 11, spur on the nation's patriotic spirit and pay tribute to heroes and victims in the war against terrorism. The art started to appear on Air Force aircraft in mid-January 2002 and was removed on the one year anniversary of the

attacks on the World Trade Center and the Pentagon

.
Website provided and maintained by:
The McChord Air Museum Foundation
P.O. Box 4205
McChord AFB, WA. 98438-0205
253-982-2485
e-mail - mamfound@mcchordairmuseum.org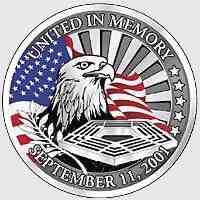 _