_

OUR HISTORY

_

C-17A S/N 00-0171

Acceptance date - February 15, 2001

McChord's 21st factory delivered C-17A

Transferred to Elmendorf AFB, AK in 2007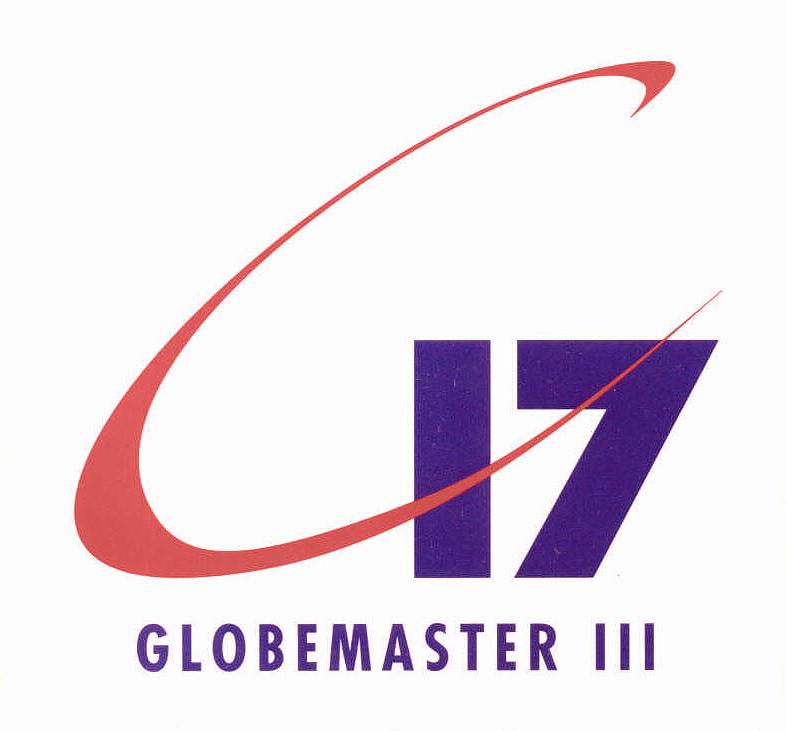 World Record holder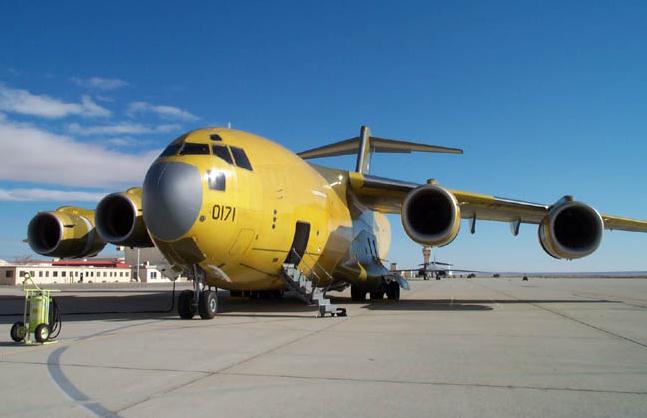 C-17A -0171 on Boeing's Long Beach factory ramp before it's flight to Edwards AFB CA to participate in month long testing program, the C-17 set 13 new World records while at the Base.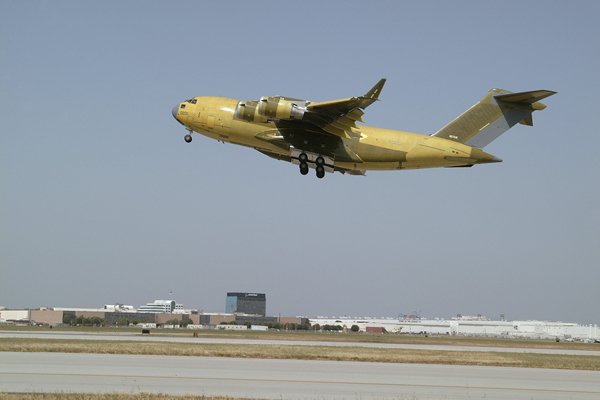 A primed -0171 lands back at Long Beach CA. Before delivery to the Air Force C-17's are painted "AMC" Gray ( FS36173) at the Boeing plant. Each Globemaster requires 170 gallons of paint in two coats totaling .003 inches thick and weighing 500 pounds when dry.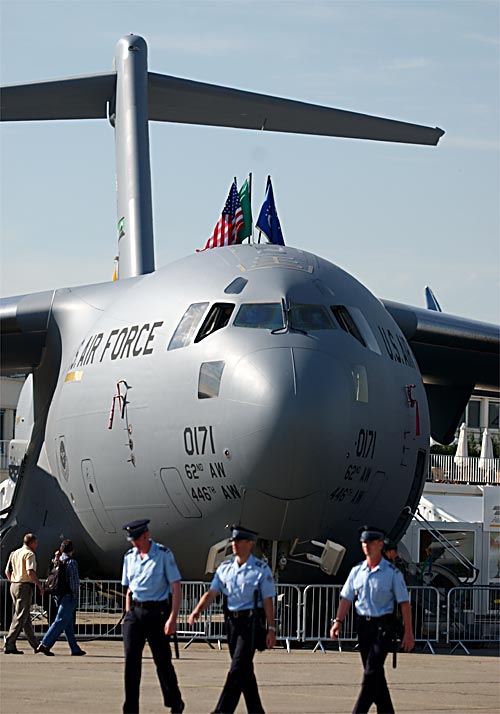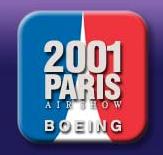 C-17A -0171 at the Paris Air Show
Paris, France
16-24 June 2001
BOEING PHOTOS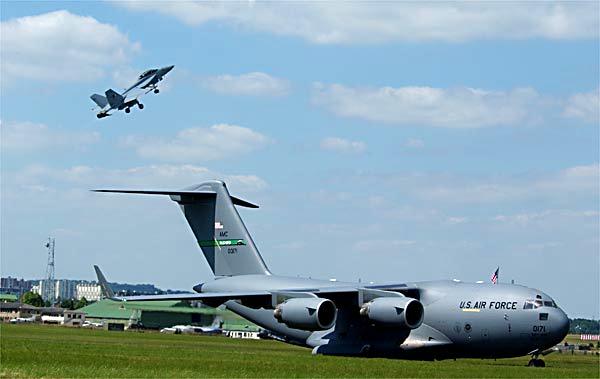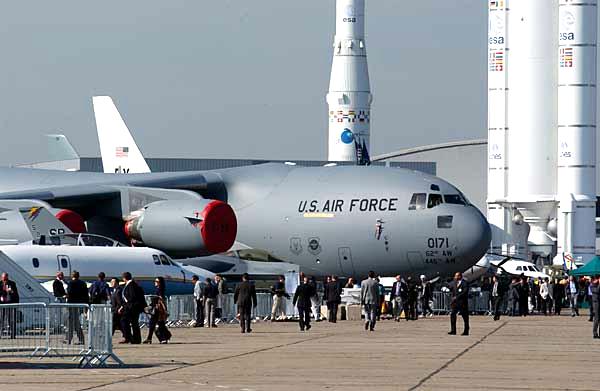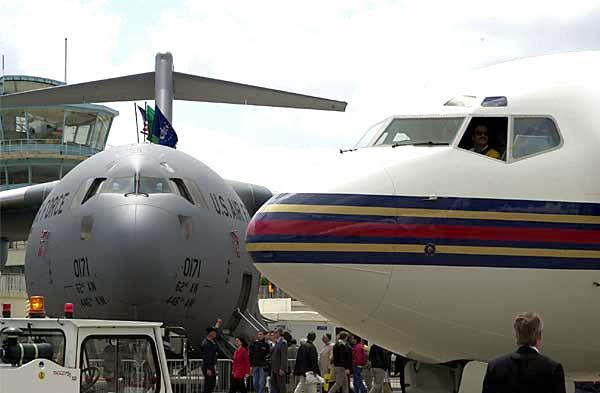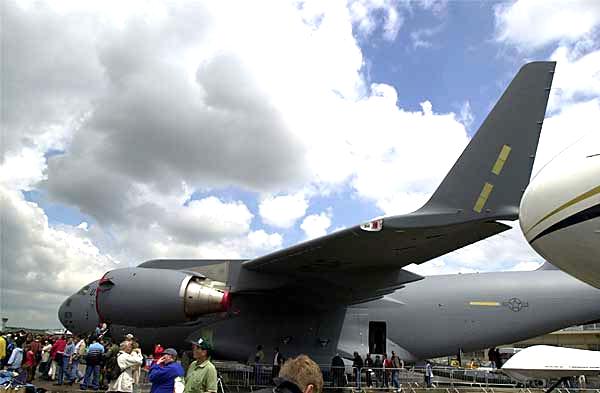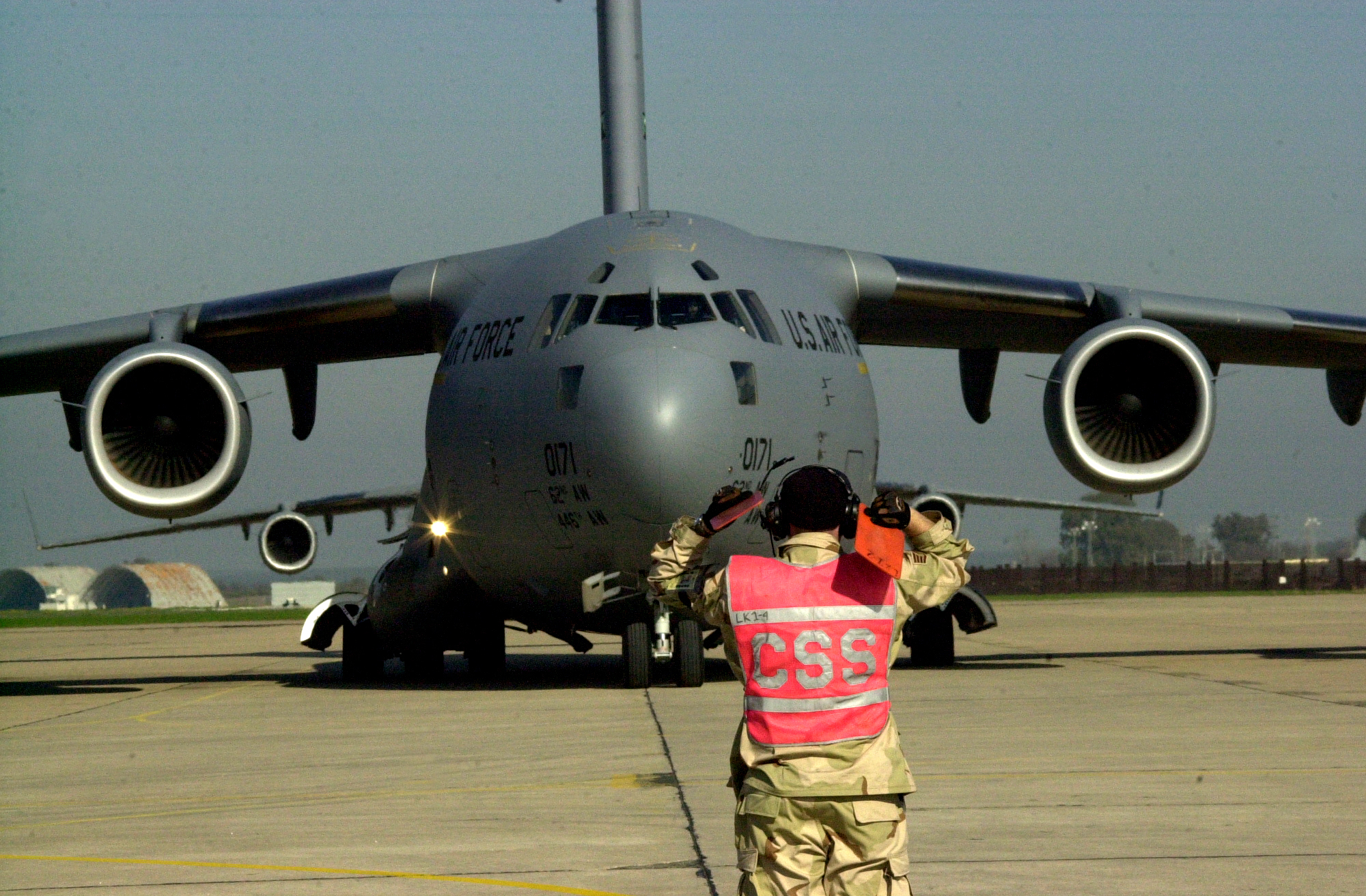 photo by Staff Sgt. P.J. Farlin US Air Force
Staff Sgt. Scott Cunningham, a crew chief from Charleston Air Force Base, S.C., marshals in a -0171 from McChord AFB. at Moron Air Base, Spain, Jan. 17, 2003. Moron Air Base is a primary stopover point for aircraft crews supporting Operation Enduring Freedom.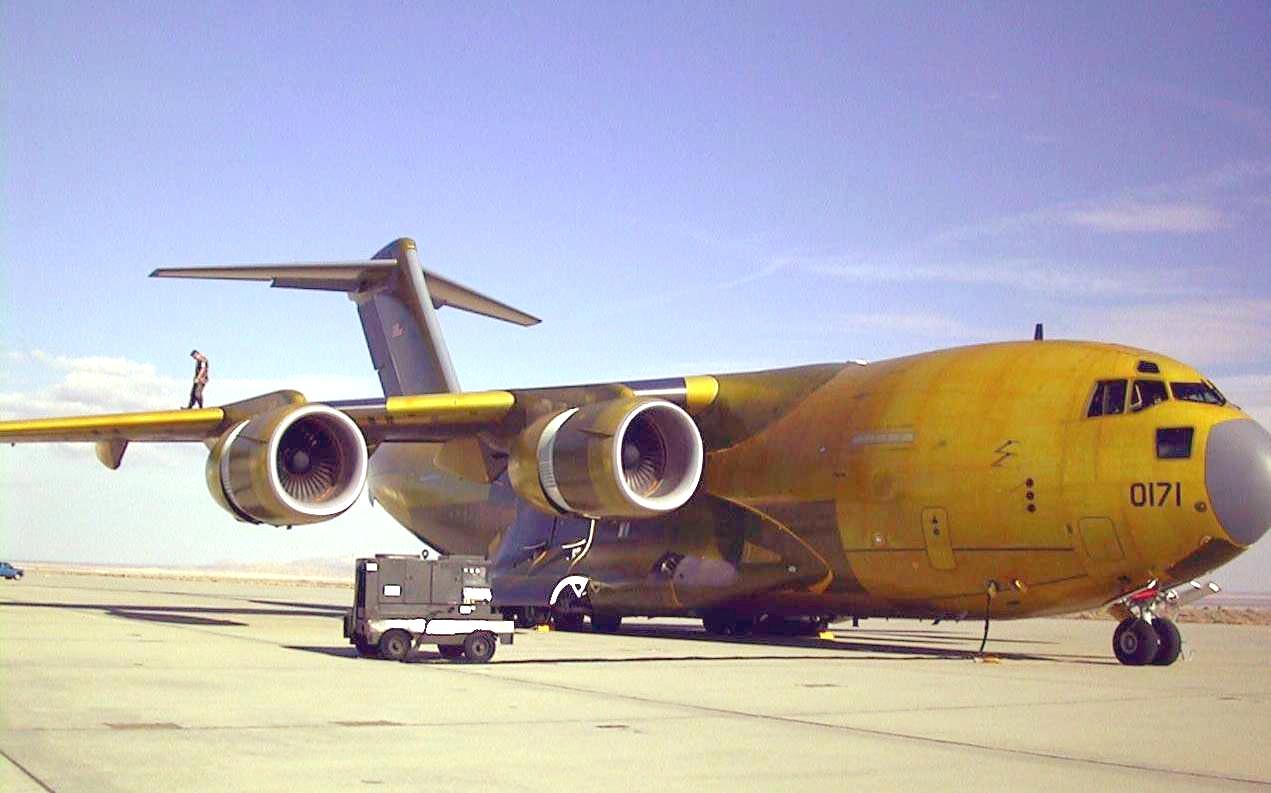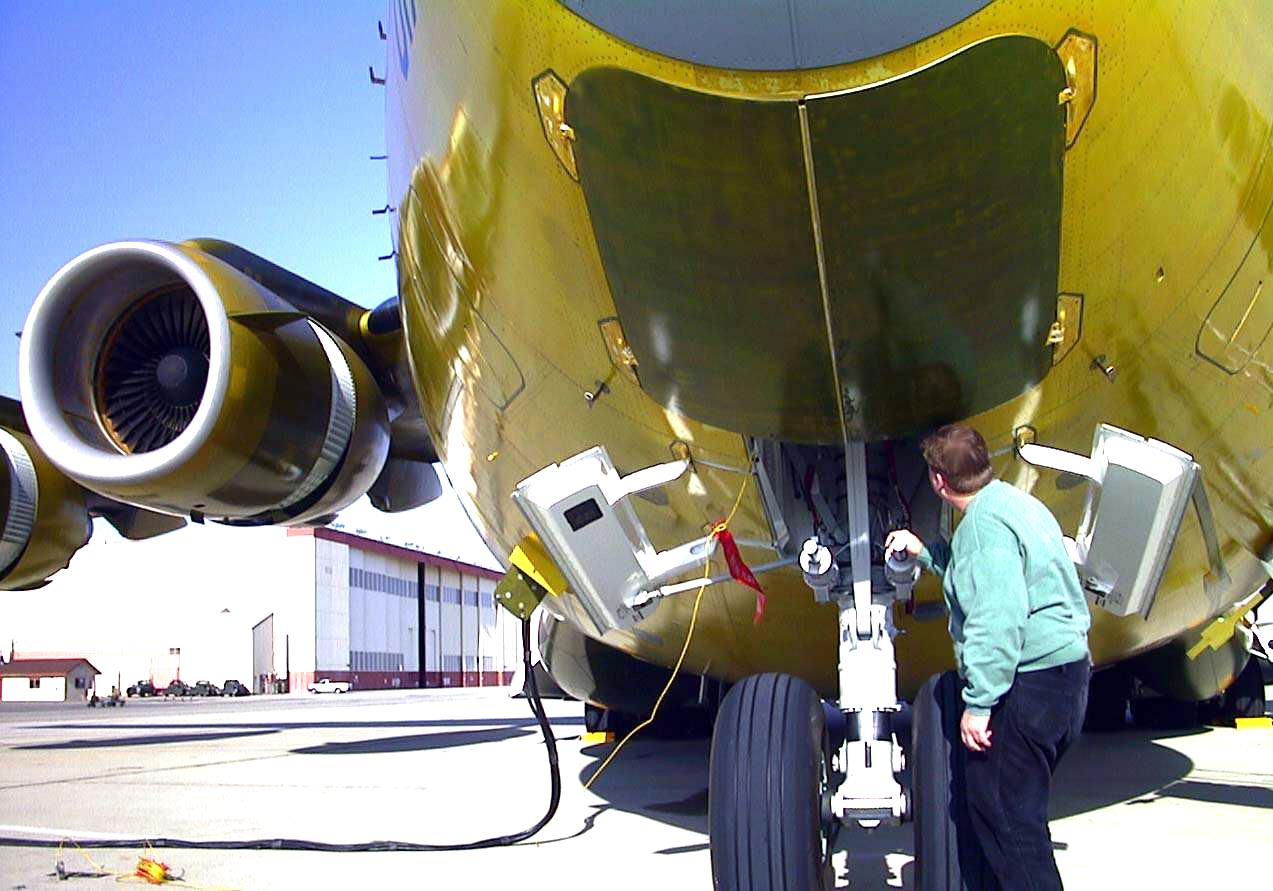 C-17A 00-0171 (P-71) being prepared for testing at Edwards AFB.
C-17 TO TEST NEW "BLOCK 12" CONFIGURATION
P-71, (S/N 00-0171) the latest C-17 delivered to the Air Force and the first Block 12 aircraft, arrived at Edwards AFB on February 17 (2001) and began a month long test program that will cover over half of the northern hemisphere. The testing will include Integrated Systems Evaluation (ISE) and verification of Block 12 unique support equipment and aircrew/maintenance Technical Orders. After testing, the P-71 will return to Long Beach for painting before delivery to Air Mobility Command (AMC) at McChord AFB, WA.

The purpose of ISE is to evaluate the Block 12 design changes by flying missions that the P-71 will most likely fly during its life with the USAF. The major changes in Block 12 aircraft include a new extended range fuel tank, major communication and navigation system upgrades and improved flight control software. After some preliminary missions at Edwards, test crews will fly to McChord AFB to pick up some AMC crewmembers. The combined group will fly typical McChord local training missions that include formation, airdrop, low level, inflight refueling, and Short Austere Air Field landings. The P-71 will then begin a Pacific tour to Alaska, Japan and Hawaii with a detour over the equator to check the navigation system. The team will make a short stop at Edwards and then head to Charleston AFB, SC to begin a Europe excursion. Charleston and United Kingdom crewmembers will join the team for a flight to England. After a day on the ground at Brize Norton for a UK maintenance show and tell, the P-71 will visit Germany and Iceland. Departing Iceland, the test crew will fly to Alaska by way of the North Pole (navigation system test) and then return to Edwards. During this testing, AMC aircrews and maintenance personnel will be evaluating changes in the aircraft Technical Orders (maintenance manuals).
C-17 Globemaster III Claims 13 World Records
November 13, 2001 C-17A 00-0171, the first Globemaster III with the extended range fuel containment system was involved in a USAF demonstration of the aircrafts many capabilities. During these flights the C-17 set 13 new World records.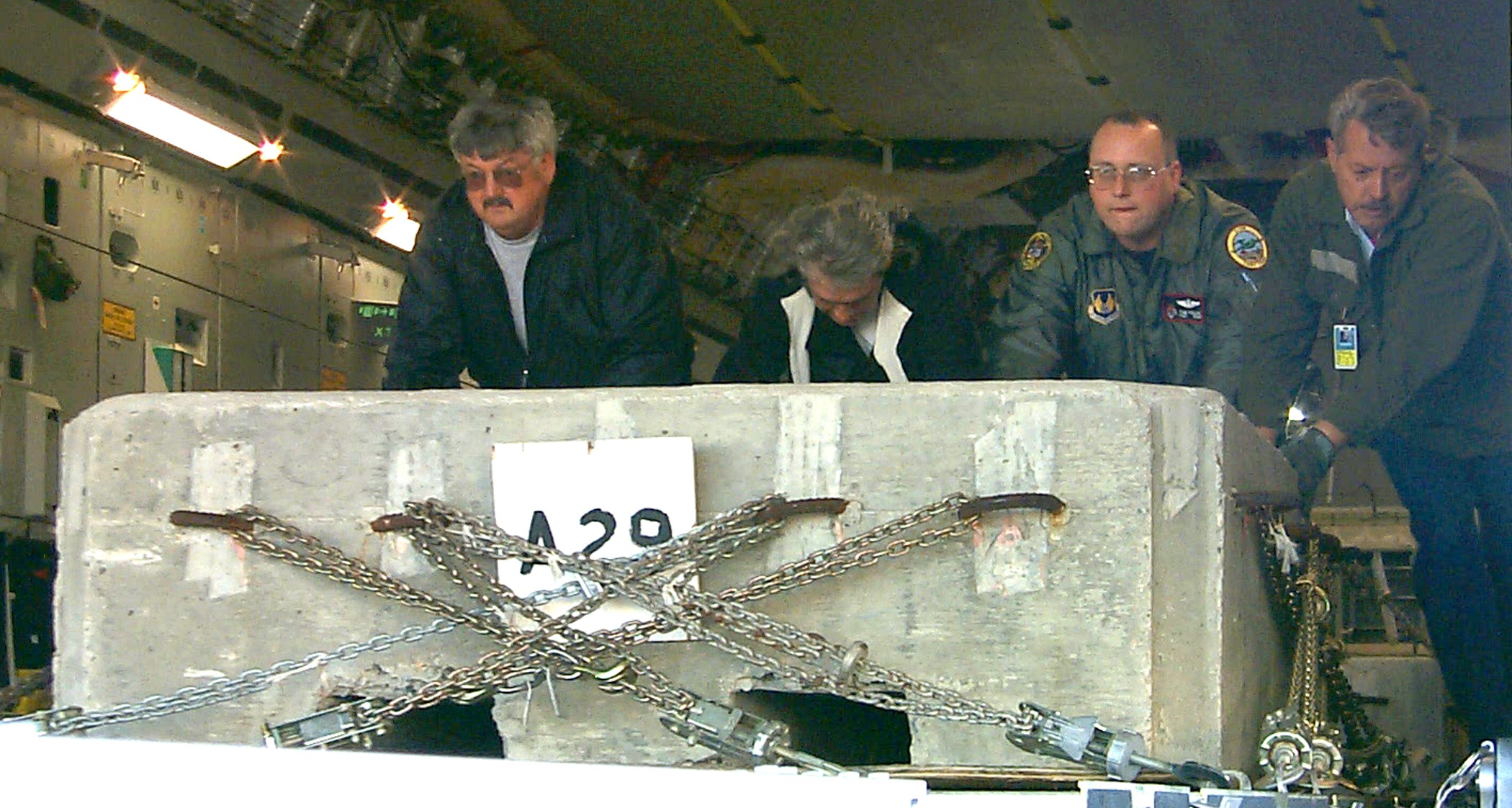 Crewmembers with the 418th Flight Test Squadron at Edwards Air Force Base, Calif., unload concrete ballast block from a C-17 Globemaster III between test flights here Nov. 27.
C-17 Globemaster sets 13 new records at Edwards

EDWARDS AIR FORCE BASE, Calif. (AFMCNS) – Demonstrating the Air Force's newest cargo aircraft's capabilities, a C-17A Globemaster III crew here broke 13 altitude and payload world records Nov. 27.

A crew from the 418th Flight Test Squadron, set the dozen plus aviation world records that brings the C-17's total world records to 33.

"These records highlight the capabilities of the C-17, which is providing crucial airlift support to our country's worldwide operations," said Capt. Chris Morgan, mission commander on one of the historic flights. "It was not an extraordinary effort, with the exception that we flew to within a few knots of the stall speed, something an operational crew would not normally do."

The crew flew three sorties to set maximum altitude records for payloads ranging from no payload to 88,200 pounds. Maximum altitudes were achieved by first burning down to the minimum fuel required to return to base and land and then climbing the aircraft as high as possible.

An observer from the National Aeronautic Association, the governing body for U.S. record attempts, was on board for all three sorties to verify the records.

One altitude record set was steady horizontal flight in which the aircraft had to maintain a constant airspeed and altitude for at least 90 seconds. The aircraft maintained an unofficial level altitude of 44,430 feet with a 22,100-pound payload. Altitudes of 43,820 and 45,500 feet were also reached carrying 88,200 and 22,100-pound payloads, respectively.

According to test pilot Maj. Chris Lindell, the aircraft was ready to keep going.

"The maximum altitude achieved for the lower weights attempted was 45,500 feet, which was based on an operating restriction for the engines," Lindell said. "The aircraft could have gone higher."

On Nov. 26, the NAA representative monitored the official aircraft weighing at Edwards. The payload used to reach the required weights consisted of large blocks of concrete chained to pallets.

The C-17 loadmasters, weight and balance hangar staff, and airdrop shop personnel worked together to make sure the loads and placement in the aircraft were optimized for the flight.

"This effort took a great deal of coordination among multiple Team Edwards organizations," said Maj. Mark Foringer, C-17 Test Team director. "Overall, it was a huge success."

The record-setting crew consisted of test pilots Lindell, Morgan, Maj. Todd Markwald and Boeing test pilot Norm Howell along with loadmasters Tech. Sgt.Tom Fields and Gary Briscoe of Boeing.

The records broken at Edwards Nov. 27 were reported to the Federation Aeronautique International, or FAI -- the official record keeper for all aviation and space world records and oversees national aviation organizations of all member countries. World-class records are defined as the best international performances for specific classes and categories recognized by the FAI.

The C-17 records were set in the category designated for landplanes with jet engines and a takeoff gross weight between 330,693 and 440,924 pounds.
Website provided and maintained by:
The McChord Air Museum Foundation
P.O. Box 4205
McChord AFB, WA. 98438-0205
253-982-2485
e-mail - mamfound@mcchordairmuseum.org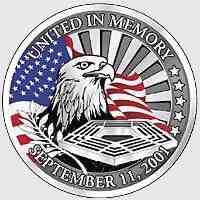 _