_

OUR HISTORY

_

65-0267 - McCHORD'S LAST C-141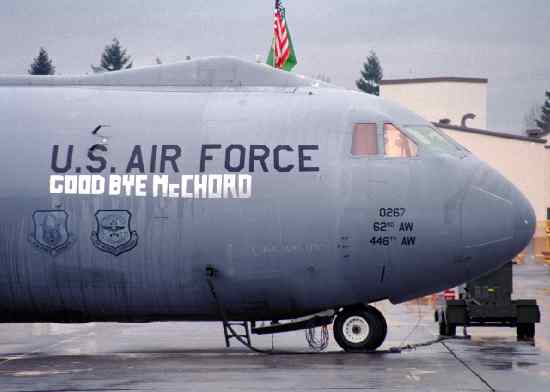 LOCKHEED C-141 STARLIFTER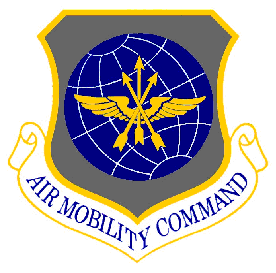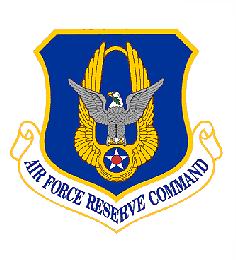 MAC / AMC
AFRES / AFRC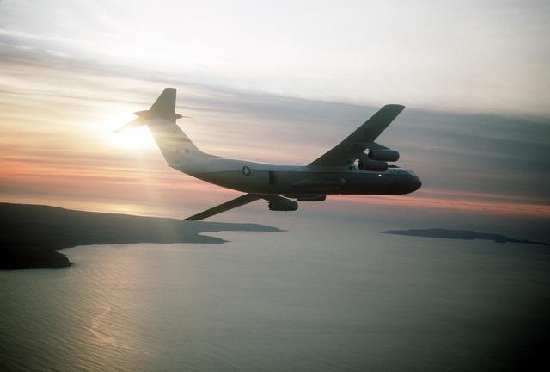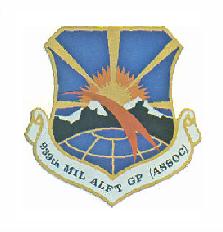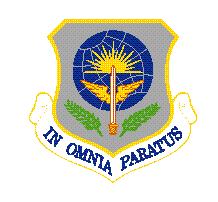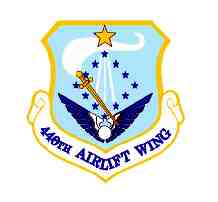 939th MAG
62nd MAW/AW
446th MAW/AW
X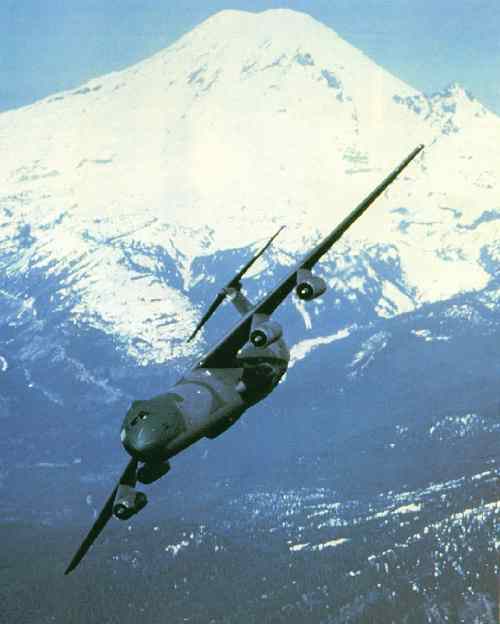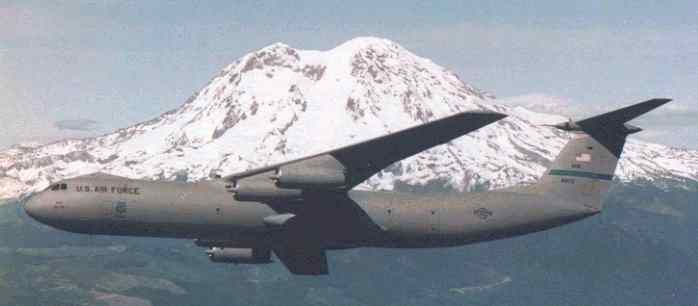 C-141B S/N

65-0267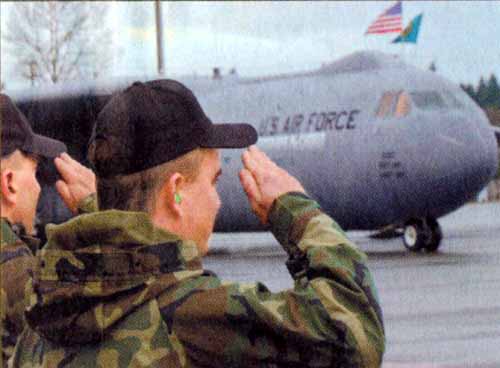 62nd Airlift Wing / 446th Airlift Wing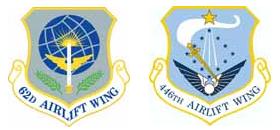 x
65-0267
APRIL 9, 2002
Mc

Chord C-141 Starlifter and crew
make final journey
News Release By Staff Sgt. A.C. Eggman - 62nd Airlift Wing Public Affairs Office
Age is a relative thing. Most people cannot retire until they are at least old enough to collect social security. But tail number 50267 is no ordinary "retiree." The C-141B StarLifter bearing that tail number was retired from active service April 7 (2002) when a McChord crew headed by Col. Paul J. Selva, 62d Airlift Wing Commander, Col. Thomas M. Gisler Jr., 446th Airlift Wing Commander, and Col. Michael Strouse, 62d Operations Group Commander, flew the aircraft to Davis-Monthan Air Force Base, Ariz. With Selva at the controls, the aircraft lifted off from McChord at about 10:30 a.m. witnessed by a crowd of close to 750 people. Gisler landed the aircraft in Arizona almost five hours later. The landing was the last for a McChord C-141 and the 4th Airlift Squadron as a StarLifter squadron. Selva and Gisler paired up again on the return flight for the squadron's first mission as a C-17 Globemaster III unit Wednesday. "The C-141 has carried our flag to every nation in the world," said Selva to the well-wishers gathered before the departure. "You can measure your success in smiles."

He went on to explain that the StarLifter has brought smiles to refugees by delivering relief supplies to them; to soldiers by bringing them home from war; to scientists in Antarctica on a medical airdrop; and to family members as their loved ones were brought home. McChord's last StarLifter launched a few tears, not smiles, and received a deserving salute from the men and women of McChord. It will be warehoused with nearly 5,000 other aircraft at the Aerospace Maintenance and Regeneration Center at Davis-Monthan. An Air Force Material Command unit, AMARC is responsible for the storage of excess Air Force, Army, Coast Guard, Marine Corps, and Navy. AMARC is commonly referred to as the "Bone yard." The center annually receives about 400 aircraft for storage and deploys about the same number for service as remotely controlled drones or sold to friendly foreign governments. Immediately after World War II, the Army's San Antonio Air Technical Service Command established a storage facility for B-29 and C-47 aircraft at Davis-Monthan. The chief reasons for selecting Davis-Monthan as the site for this storage center were Tucson's meager rainfall, low humidity, and alkaline soil. These conditions make it possible to store aircraft indefinitely with a minimum of deterioration and corrosion. In addition, the soil (called caliche) is hard, making it possible to park aircraft in the desert without constructing concrete or steel parking ramps.

The recently retired C-141 entered service during the Johnson administration, in 1965. The aircraft amassed nearly 47,000 flying hours during its 36 years of service. The C-141 participated in almost every operation and major exercise since the Vietnam War. It brought home prisoners of war and service men and women killed during combat. The Air Force stretched the StarLifter in 1981, to accommodate more cargo, and it also underwent modification to permit aerial refueling. The airlifter was in the sky over Grenada and Panama during those conflicts and flew more than 100 sorties in Operations Desert Shield and Storm. It flew Northern Pacific missions as well as supporting Air Force operations like those in Bosnia and the former Soviet Union. The StarLifter flew humanitarian missions for Operations Provide Promise and Provide Hope, as well as re-supplying American forces in Desert Scorpion I, II, and III.

McChord's last StarLifter was readied for its final flight with just enough equipment to get it to Davis-Monthan. All non-essential survival equipment was removed. The aircraft will now go through a much more thorough process before it is parked. The process it went through before it left McChord included a lot of work and a little reminiscing. "I don't have 4,000 hours on this aircraft," said Selva. "And I didn't spend the majority of my time flying it. But I do remember my first flight on it. It was the summer of 1967, and I was 9 years old living overseas with my family. The C-141 brought me home to the states. "I have jumped from a 141 and I have flown a 141 and I enjoyed every minute of it," he said. "This is a chapter we close today, but the legacy of the C-141 lives on in each of you."
The End of an Era
Washington reservists bid farewell to final StarlifteR
News Release
By Master Sgt. Bud McKay 446th Airlift Wing Public Affairs Office
Over the course of five decades, 446th Airlift Wing aircrews from McChord Air Force Base, Wash., logged more than 160 million miles flying the C-141 aircraft — enough to circle the globe more than 6,600 times.


The C-141 odometer stopped turning for the Air Force Reserve Command unit April 9 when McChord's last StarLifter was delivered to the Aerospace Maintenance and Regeneration Center — better known as the boneyard — at Davis-Monthan AFB, Ariz. With the final mission, McChord completed its transition from the 1960s-vintage aircraft to the Air Force's newest airlifter, the C-17 Globemaster II. Col. Tom Gisler, 446th AW commander, who participated in the final flight, said he did so with mixed emotions. "It's like saying goodbye to an old friend, a friend I won't get to see again," Gisler said. "I've flown it (the C-141) for three decades. It's been a home away from home at times."


Since 1966, the C-141 has been McChord's bread and butter. From Antarctica to Zaire, aircrews have carried troops, supplies, vehicles, weapons, refugees, prisoners, patients, humanitarian cargo and food. You name it, and the C-141 has hauled it. The renowned StarLifter, once the mainstay of military airlift, has seen duty in operational areas from Vietnam to Afghanistan. "Since it was built in the 1960s, the C-141 has been in every major contingency we've had since coming into being," said Gisler, a C-141 pilot with more than 4,000 flying hours. "When the Vietnam POWs (prisoners of war) were repatriated from North Vietnam in 1974, it was our C-141s that flew them out. What was the cargo plane of choice for (Operations) Desert Shield and Desert Storm? The C-141. It was the same for Kosovo and Grenada. Just choose a contingency since the '60s, and the cargo plane of choice was the C-141."


Howard Hanson was one of the first air reserve technician pilots at McChord. While he was flying C-119s out of Portland, Ore., he heard that an associate wing was planned for Air Force reservists at McChord to help fly C-141s. He liked the idea of the associate program and moved his family to Lacey, Wash., to join the Reserve in 1968 as a captain. "I was attached to the active-duty 4th (Airlift) Squadron back then because we didn't have a squadron up there yet," said Hanson during a telephone interview from his Yakima, Wash., home. Hanson logged about 1,000 hours in the C-141 while he was at McChord from 1968 to 1971. "I was quite impressed with the -141 back then," said the 77-year-old Hanson. "But you have to remember it was almost brand new. It was a very nice airplane."


Four years after Hanson left McChord, Chief Master Sgt. Jerry Roper-Witt joined the 446th AW. Roper-Witt, now the chief flight engineer for the 313th Airlift Squadron, strapped into the seats of a C-141A for the first time in 1975. "It was quite a plane back then, and it still is," Roper-Witt said. "The plane could fly forever. Sure, it has its bugs and quirks, but it amazes me that its 1960s technology still keeps this plane a viable resource for the Air Force." Roper-Witt, along with 13 other unit reservists, flew the 446th AW's last C-141 overseas mission. The aircraft left McChord March 11 for a trip to the Middle East with stops at Elmendorf AFB, Alaska; Kadena Air Base, Japan; Singapore; and other locations. For the last four years, while McChord has transitioned from the C-141 to the C-17, Roper-Witt has been busy helping the 446th AW's 180 flight engineers find other jobs. Flight engineers are not part of the C-17 crew. "I really don't know what I'm going to be doing yet," said Roper-Witt, who has spent 39 years in the Air Force. "I have options: fly somewhere else, take another position here or retire. If I do retire, I'll miss the 'family' I have here."

In addition to flight engineers, C-141 navigators are losing their jobs, since the C-17 is equipped with the latest state-of-the-art automated navigational systems. Before the C-17s arrived, there were close to a dozen navigators assigned to the three flying squadrons in the wing. As the last C-141 prepared to head to the boneyard, there were eight left. "I think 20 years is enough, and I'll retire," said Maj. Denny Woxen, who has about 3,500 flying hours plotting courses for the StarLifter. "I have two more years to go, and I plan to go down to March (Air Reserve Base, Calif.) to finish out my last two years."
The 452nd Air Mobility Wing, March; 445th AW, Wright-Patterson AFB, Ohio; and 459th AW, Andrews AFB, Md., still fly the C-141C. The Air Force took the best C-141B models and converted them to C-141Cs, adding an upgraded avionics package. These wings, along with a couple of Air National Guard units, will continue to fly the C-141C until 2006. Now that McChord is out of the C-141 business, the 514th Air Mobility Wing, McGuire AFB, N.J., is the only Reserve unit still flying B models. "You never know. Something might present itself, and I'll change my mind about retiring and find a new job," Woxen said. "All I know for sure right now is (losing) the C-141 mission here is a big loss. But I'll fly with March and do what I have to do."

People who maintain the C-141 have also developed a bond with the aircraft. One of those is Master Sgt. John Carson, an aircraft maintainer from the Silver Sortie Generation Flight with the 446th Aircraft Generation Squadron. "It's like an old friend to me," said Carson, who has been working on the StarLifter since 1972. "I've come to know them inside and out."

But the end has come. The McChord flight line once was full of C-141s all along the ramp; now there are none. Although the StarLifter's days at the base are over, its legacy, along with that of the men and women who flew it through the years, will remain.
Click here for 4th Airlift Squadron's "C-141 End of a Era" video
"SIGNING OFF" THE STARLIFTER ERA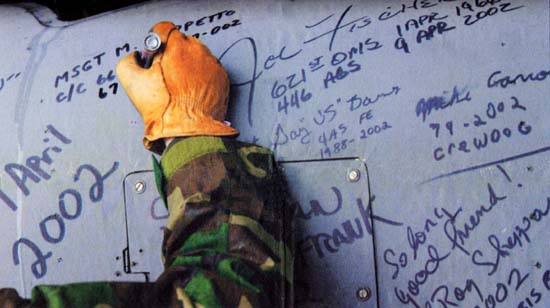 PHOTO BY JEFF LARSEN / SEATTLE PI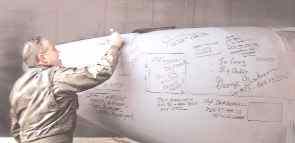 photo by

Steve bloom / the Olympian
After more than 28 years flying in C-141s, Master Sgt. James Paribello adds his nickname, "Italian Stallion," to the signatures of other crew members on the wheel well of S/N 65-0267.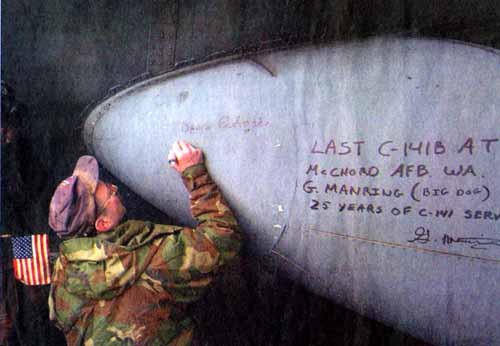 PHOTO BY RUSS C
ARMACK / Tacoma NEWS TRIBUNE
Dave Petroske of Puyallup, WA, a civilian aircraft mechanic who worked on C-141s at McChord since 1976 signs his name on 267 before the aircrafts final flight to Arizona.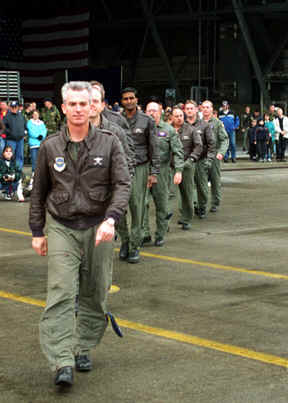 photo by Daniel Thompson / usaf
Col. Paul Selva, former 62nd Airlift Wing commander, leads the flight crew out to S/N 65-0267 for its final flight to Davis-Monthan, Ariz. The C-141B logged more than 46,500 hours before being retired.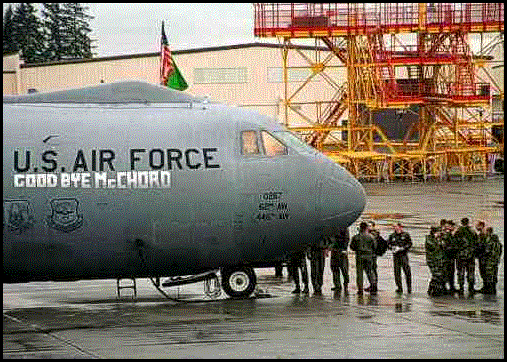 photo by Daniel Thompson / usaf
More than 750 people came out to say a final goodbye to the -0267 before its final flight. Many people took the time to write a goodbye note in chalk on the aircraft.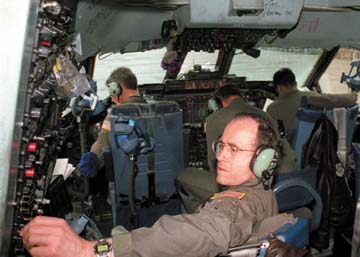 photo by Daniel Thompson / usaf
Col. Tom Gisler, 446th Airlift Wing commander, McChord Air Force Base, Wash., adjusts the settings on his radio headset just before McChord's final C-141 was flown to boneyard at Davis-Monthan AFB, Ariz., April 9. Five hours later, Gisler replaced former 62d AW Commander Col. Paul Selva at the controls when S/N 50267 touched down for the last time.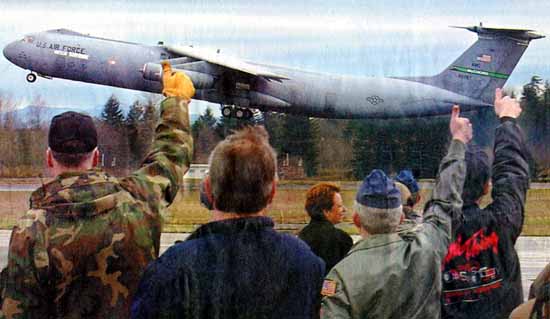 PHOTO BY RUSS C
ARMACK /
Tacoma NEWS TRIBUNE
Onlookers give a "thumbs up" to 66-0267 as she climbs in to the air for the final time. After a final pass, 36 years of StarLifter history came to a end with a final wing wave to the crowd.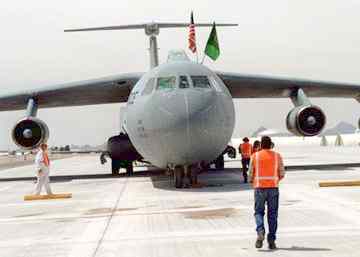 TSgt. Dave Wilcoxson /
usaf
Col. Tom Gisler, 446th Airlift Wing commander shuts down the engines of a C-141 for the last time after piloting the StarLifter on its final flight from McChord to Davis-Monthan AFB, Ariz.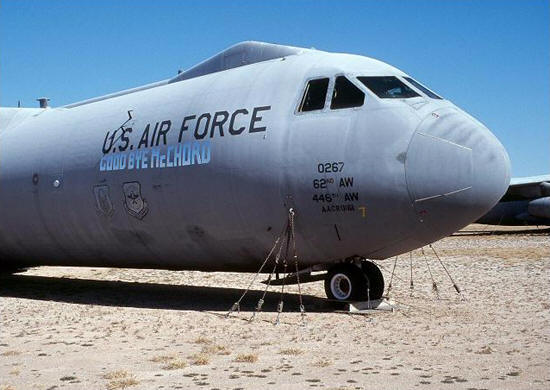 Photo By Philip Michaels
/ www.amarcexperience.com
Pictured here after arriving at AMARC for storage, C-141B 267 still wears the "Good Bye McChord / Hello Sunshine applied with aluminum "Speed Tape" by the aircrafts last Crew Chief MSgt Aldo Rivas from McChord's 62d MXS. After arriving at Davis Monthan the aircraft received a storage code of "AACR0161" (the 161 C-141 to enter the "Boneyard" never received the usual protective treatment applied to aircraft that will be stored for a extended period of time, since most StarLifters in storage were due to be scrapped a year after 267 arrival in 2002.
Click here for a list provided by The AMARC Experience of C-141s stored at AMARC
_
62ND AIRLIFT WING C-141B TAIL NUMBERS
During the subsequent draw down and phase out of C-141's to the 62d AW, many of the "healthier" StarLifters leaving units converting to other aircraft or deactivating, were distributed to the remaining C-141 units. During the 1990, many of these C-141's passed through McChord before meeting their ultimate fate in the hot Arizona sun. Below is the list of C-141B's assigned to the 62d AW during 1999.
63-8076
63-8081
63-8082
64-0611
64-0615
64-0631
64-0633
64-0643
65-0218
65-0230
65-0231
65-0235
65-0238
65-0239
65-0240
65-0241
65-0244
65-0251
65-0254
65-0259
65-0260
65-0267
65-9403
66-0133
66-0140
66-0147
66-0149
66-0158
66-0160
66-0165
66-0171
66-0175
66-0183
66-0184
66-0195
66-0197
66-0206
66-0209
66-7944
66-7948
66-7949
66-7951
66-7955
66-7956
67-0001
67-0002
67-0003
67-0018
67-0028
THE LAST C-141's
(Click each tail number for related stories of the aircraft's last flight)
AIR FORCE RESERVE COMMAND
445th Airlift Wing
x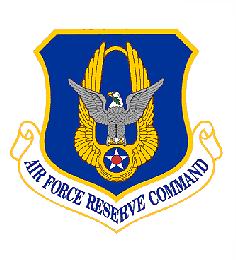 x
66-0177
May 6, 2006
AIR MOBILITY COMMAND
305th Air Mobility Wing
x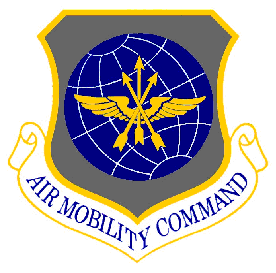 x
64-0633
September 16, 2004
AIR NATIONAL GUARD
164th Airlift Wing
x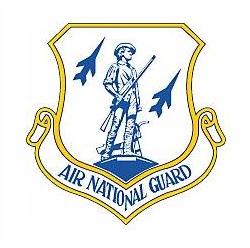 x
May 2, 2004
Website provided and maintained by:
The McChord Air Museum Foundation
P.O. Box 4205
McChord AFB, WA. 98438-0205
253-982-2485
e-mail - mamfound@mcchordairmuseum.org