F-106 over Mt. Saint Helens, WA
20x24 FINAL COPIES OF A LIMITED EDITION RUN
$350.00
Price does not include shipping or handling
Canvas Gicleé (Gee Clay) EDITIONS
The following Canvas Editions are available in four sizes:
8x10 Canvas Edition
11x14 Canvas Edition
$60.00
$100.00
16x20 Canvas Edition
20x24 Canvas Edition:
$175.00
$210.00
Prices do not include shipping or handling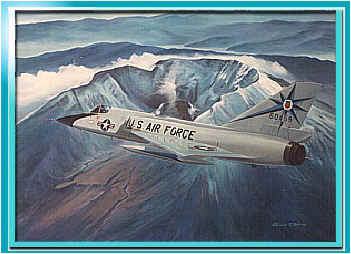 Convair F-106 over Mt. Saint Helens
The Canvas Edition of the F-106 litho above.

Backseat ride in a 318th FIS F-106B
Then Brigadier General Pete Todd, former Commander of the 25th NORAD Region/Air Division based at McChord AFB, is seen in the back seat of an F-106B flanked by F-106A's 60459 and 60457from the 318th FIS. during his Command of the Each

Canvas Edition

is signed by General Todd.
OTHER F-106
ARTWORK
Mr. Broome is also offering his other F-106 Delta Dart Canvas Gicleé editions for sale (below). For a one time set-up fee, any of the aircraft depicted in all of these Canvas prints can be produced with

markings from any F-106 squadron.


F-106A two ship formation.
For more information on Richard Broome and his work - please visit his website
Rick Broome Productions
Please mention that you saw this link on the
McChord Air Museum Homepage
Website provided and maintained by:
The McChord Air Museum Foundation
P.O. Box 4205
McChord AFB, WA. 98438-0205
253-982-2485
e-mail - mamfound@mcchordairmuseum.org