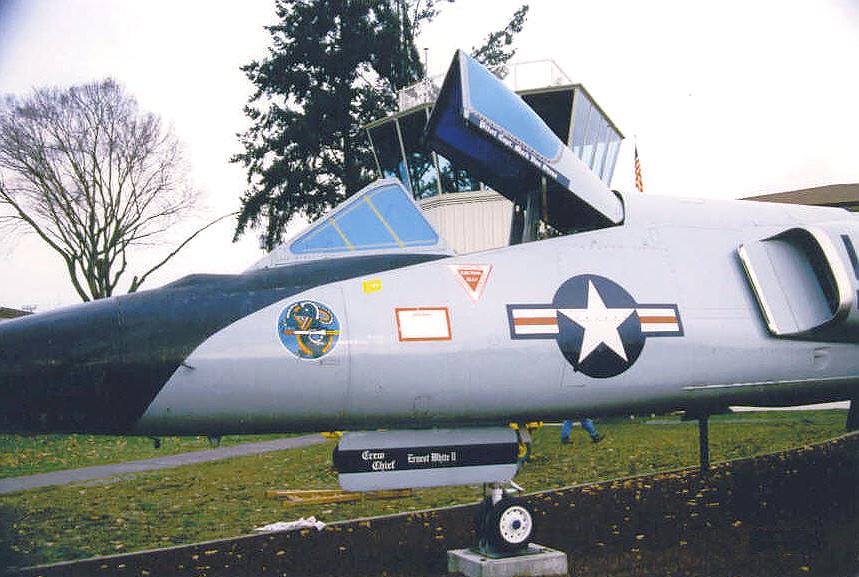 F-106 56-0459 in 1997
The Museum's F-106A, s/n 56-0459 initially had it's serviceable components removed by the 318th FIS during the units prep of the aircraft for display. The components would later find their way back onto other F-106's from the 318th FIS and other Units and NASA through the USAF Supply System.

After it was acquired by the 25th Air Division

in 1989, -0459 was stripped of most of its remaining components, including the windscreens (replaced by Plexiglas), canopy and radome. Many components were used to support QF-106 Drone Aircraft.
In the picture above, the name of 318th FIS pilot Capt Mark "Rock" Van Stone can be seen on the aircraft's

canopy rail. In 1980 Capt. Van Stone became the last 318th FIS pilot to die while on duty when he and his aircraft, F-106A 59-0004, crashed short of the McChord runway, Van Stone was unable to eject from the F-106.

F-106A 56-0459 pictured here at its first display location at McChord's AFB's "Overlook Hill" by the bases taxiway. The names of the aircraft's last assigned pilot (Capt. Randy Neville) and Crew Chief (SRA. Ahmad McGee) are painted on the canopy rail and nose gear door in this picture. Neville is currently Boeing Test Pilot on the F/A-22 Raptor, McGee is maintaining F-16 Fighting Falcons with the USAF in Europe.